Mark 1:29-34 READ
Gather the City
Go to people
"they entered the house of Simon and Andrew"
I love the Bible! When you read it, and follow the story, you get an indication of where they were and what they were doing when Jesus was going about his ministry.
They are coming from the Synagogue right after Jesus did ministry there, and then they move to public ministry
Jesus did ministry in the Synagogue but he also did ministry outside as well. It wasn't an either or, it was both
You notice from Scripture- Jesus and the early disciples spent time in Synagogue
Luke 6:6 – Now it happened on another Sabbath, also, that He entered the synagogue and taught.
Acts 18:4 – And he reasoned in the synagogue every Sabbath, and persuaded both Jews and Greeks.
You also notice that they spent time in people's homes
Matthew 9:10 Now it happened, as Jesus sat at the table in the house, that behold, many tax collectors and sinners came and sat down with Him and His disciples.
Acts 21:8 On the next day we who were Paul's companions departed and came to Caesarea, and entered the house of Philip the evangelist, who was one of the seven, and stayed with him.
What we see from the life and ministry of Jesus is an approach to ministry and life that was both in the house of God and outside of it as well
Jesus knew that those who knew God needed his ministry and those who didn't know him needed his ministry as well- he was there to bring as many as he could into relationship with the father.
Jesus had a ministry that went to where the people were, samaria, cesarea, galilee, Nazareth,
He was all about the people and went to where they were
What does it mean to you?
If you want to reach a city, you have to go to where the people are!
Last words Jesus spoke to his disciples-
Matthew 28:19 Go therefore[c] and make disciples of all the nations, baptizing them in the name of the Father and of the Son and of the Holy Spirit, 20 teaching them to observe all things that I have commanded you;
You have to go to people's houses, you have to go to where they congregate, GO
Now- this is a delicate balance to a subject where people will use this as a means to justify going and doing things that people ought not do
Remember this- when Jesus went to the people it was to bring them the truth of who God was and to minister to them, it wasn't to take part in what they were doing
There's a term- so heavenly minded, that you're no earthly good. But the other side is so earthly minded you're no heavenly good
Acts 1:8 But you shall receive power when the Holy Spirit has come upon you; and you shall be witnesses to Me in Jerusalem, and in all Judea and Samaria, and to the end of the earth."
Jesus always had ministry on the forefront of his mind and mouth and took every opportunity to speak into people's lives
I would say if you are going somewhere and just taking part in what they are doing, and not actually bringing the unadulterated light of Christ there with you, you're just taking part
Example- There are ministries out there that reach out to women who are working in clubs as exotic dancers- You can't go there every week and say you're ministering. That's a place for women to minister to women.
Again- balance- you can't go to the Mariners Game and stand on your seat and preach in the middle of the game and expect that you wont get thrown out
But starting a conversation with someone sitting next you to is maximizing the situation
Evangelism never takes a day off- (Story of Billy in Mexico inviting people to church)
Isaiah 6:8 Also I heard the voice of the Lord, saying: "Whom shall I send, And who will go for Us?" Then I said, "Here am I! Send me."
We can't reach a world that we never interact with. At your kids schools, at the store, at the mall, at the park, restaurants, sporting events, community events, your neighbors, your business associates, other people's parties.
Use every opportunity to reach out to people who are not connected to Jesus
Being in church is great. We cant ignore that. Being together is great, but we should maximize the opportunities when we are in the community
Believe the best for people
"they told Him about her" as this story progresses, they end up at Simon and Andrews house
James and John and other disciples see that Simon and Andrews mother has a fever and they tell Jesus about her
30 But Simon's wife's mother lay sick with a fever, and they told Him about her at once.
These guys knew that the best thing possible for mom was going to be found in Jesus
They believed that Jesus could do something for her that apparently no one else could do- lift her fever
What did Jesus do? 31 So He came and took her by the hand and lifted her up, and immediately the fever left her. And she served them.
Think about it- They see someone hurting. Someone in need. Someone with a hurt, and they believed that Jesus was the answer for her.
They thought "if we can just get Jesus to her, that'll fix it"
There's a story of a guy in the Bible who gets lowered through a roof so that he can be touched by Jesus, the Centurion who asked Jesus "if you just say the word"
That's a belief that the people in their lives that they knew lives would be BETTER if they were touched by Jesus- getting them to Jesus is the answer to their problems.
This is all about believing that JESUS is the BEST for people- nothing more- nothing less
1 cor 13:7 (AMP) 7 Love bears all things [regardless of what comes], believes all things [looking for the best in each one], hopes all things [remaining steadfast during difficult times], endures all things [without weakening].
This is two fold- an experience with Jesus now is powerful, but ALSO the hope of salvation
Don't we all have friends that can fix anything? I had a Sgt in the army like that- Sgt Phillips.
Paperwork, PT, Vehicles, People, finances, training, weapons, no matter what, if you were in a tight spot, you knew if you Got him on it- It would be taken care of- "get Sgt Phillips" they would say- Many times when a new soldier would come to the unit- knew if Sgt P involved- done
When Paul went on all his missionary Journeys- it was because he believed the best for People was JESUS- it was the answer to all their problems- There is nothing greater
What does it mean to you?
Do you believe that Jesus is the best for people?
Are you double minded and believe that there is some other answer for peoples condition?
I believe Jesus is the answer for every human condition.
Jesus can fix any marriage. Heal any heart. Change any mind. Heal any body. Change any perspective. I believe it.
Now, does that mean that the other means are ungodly? Sometimes, but the best case scenario is to have JESUS be the one who does it- its whats BEST for people
Proverbs 18:10 The name of the Lord is a strong tower; The righteous run to it and are safe.
Acts 4:12 Nor is there salvation in any other, for there is no other name under heaven given among men by which we must be saved."
If you believe that Jesus is the only way to heaven, and that people are lost without Jesus- then you must believe that he is what is BEST for them
For my kids, What I want for them more than anything is a love for God and his church
I don't care how much money they make, how good they are at sports, how many friends they have- I care if they know Jesus
For yourself, friends, family. You have to believe the BEST for them and the best for them is JESUS
When you want to draw in a city- you have to offer up the true solution- JESUS
If we draw people to us or our church but we don't share Jesus with them, we give them nothing
Either you believe that Jesus saves or you don't.
And if you do-
Bring them to Jesus
"they brought to him" 32 At evening, when the sun had set, they brought to Him all who were sick and those who were demon-possessed.
This right here is the crux of the story- They brought everyone they could find to Jesus-
They BROUGHT Them- they didn't wait for people to show up- they didn't sit back on their laurels- they BROUGHT people to Jesus
Jesus told a parable once about a great supper and said in the parable Luke 14:23Then the master said to the servant, 'Go out into the highways and hedges, and compel them to come in, that my house may be filled.
These disciples- BROUGHT people to Jesus so that they could experience who Jesus WAS
They knew that the only way to get them there was to BRING THEM
What happened? v33 And the whole city was gathered together at the door.
Did you catch that? The whole city was gathered at the door- the whole city
Now, the amount of people is irrelevant- what IS relevant is that the whole city wanted what was in that house- They wanted what Jesus was giving out- and they came out to get it
They brought the whole city to Jesus- The whole city
What does it mean to you?
Bring people to Jesus! Do everything you can to bring people to him
2 Corinthians 5:20 Now then, we are ambassadors for Christ, as though God were pleading through us: we implore you on Christ's behalf, be reconciled to God.
Either we are ambassadors for Christ or we are not.
Do you know what an Ambassador does? Goes an establishes relationship with an adversary to convince them to their ways
Notice "as thought God were pleading through us" God uses US to get to PEOPLE
Implore? That means to convince to persuade people to come to Jesus-
Pleading? "to attempt to persuade one by argument; to supplicate with earnestness; to urge; to press by operating on the passions."
Believing that we are going to reach a city by simply sitting by is not going to happen
Directed, intentional relationship building with people for the hope of sharing the truth
You can do this by bringing people to church- by introducing them to Jesus- talking about what you have experienced with Christ-
Every Sunday they will hear that Jesus Christ is the only way to heaven and salvation is found in him alone
When you bring them to Jesus?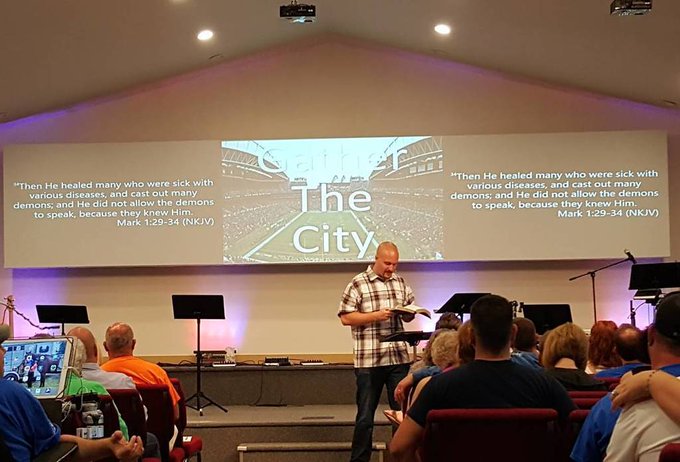 Watch Jesus work
34 Then He healed many who were sick with various diseases, and cast out many demons;
Upon Jesus arrival into the house, many people were healed in front of the people
When people have an interaction with Jesus- we can sit back and watch him do his handiwork
In Jesus time, he healed so many people. Lepers, lame, fevers, sight, hemmoraging people. HEALED
People followed him and saw the power that he had- and were moved by what they saw
Crystal and I constantly say- there is only two options when people come under the power of God- you either change or you leave- no one stays the same
We have seen many people saved, healed, delivered, set free, changed, and redeemed over the past 13 years
Watching Jesus work is about as good as it gets.
In 2002, from breast cancer, then 2 years later was blessed with my son, after told can't have kids.
before leading worship my eyes felt like I had knives in them, I couldn't open them and had tears that wouldn't stop. Crystal Pugh prayed for me, immediately gone.
My carpal tunnel. scoliosis) kicking a iv heroin addiction I asked God to help me and I have slept soundly almost every night since jail, prison, and work release included, jesus holds me up when I can't stand and makes me fly when I'm able to walk
I was down out and on my luck. Was doing really bad while living in Albuquerque. Heartbroken in so many ways.. On the verge of doing something unregrettable. Sat down and read Psalms. Jesus put his hands on me. I felt it. Changed me forever. I started to trust in him more. I read more. ) My faith in God increased
Jesus healed my son.
Richard Davis I struggled with suicide for years. Not any more
God healed my hip. I had been burdened with this issue since birth, and now all good!
I havent had a problem since!
I believe He healed Eli while still in the womb. He was supposed to need tubes in each side of his head, nicu in delivery room waiting, came over and said they dont know why they are there that he is perfect.
Went thru a few years of infertility treatments with no luck. We were told there was no real chance of me conceiving… So we adopted a baby. Then 6 years later I conceived and had a baby boy.
When I had a massive stroke at the age of 29. Doctor told me it was a miracle that I made it through and especially that I didn't have any severe long term impairment.
I got hit by a car crossing the street when I was 5, only had a fractured tail bone, don't know if he healed me after or prevented me from getting hurt more,
Used to be a dope fiend (healed) & also used to have a disease for which there is no cure (healed).
Flying the plane in the air couldn't focus or even fly the plane when I was in charge. Closed eyes and prayed and within minutes was healed 100% so I could land safely.
My wife had 5 different types of high dose chemotherapy that eliminated her entire immune system for an autologous stem cell transplant (experimental treatment for MS). We were told that because of the chemo it would not be possible for my wife to get pregnant. I can't wait to explain this to our miracles to our 2 kids
For the short season I attended FAV, I had injured my back pretty badly working out and pulled something. I couldn't turn to my side and was in a lot of pain. You guys just so happened to be praying for healing for anyone that morning. Within that same day right after church, my back muscles felt as if nothing had even happened to them or even injured. Was back in the gym the next day!
been shot, overdose on drugs, stalked for 3 days while high on drugs 3rd day front door blown in by 3 guys with shot guns, 45 cal missed me by 2 inches
I became an alcoholic at 35 after a divorce and my sister passed away…for the 6yrs i drank a 1/5 a day….He delivered me and healed me from that bondage the enemy was keeping in to keep me from the purpose he had for my life
on Christmas eve this past year I left service and by the time I was home I was completely sick with the stomach flu. It was BAD. I was in the bathroom for about 4 hours. I called out and prayed for healing so I could be there with my kids Christmas- he healed me
Jesus healed me from breast cancer twice. I love the Lord.