Title- Have Everything You Need
Mark 2:5-12
The basis of Christian thought and reason is that God has forgiven our sin, through our faith in Jesus Christ and his payment of our sin
This is the essence of who we are as Christians and what we believe to be true. It guides what we do, how we do it, why we do it- 2 Corinthians 5:21 For He made Him who knew no sin to be sin for us, that we might become the righteousness of God in Him.
We gather together because we are forgiven. We worship together because we are forgiven. We allow God to grow us through the word because we are forgiven. We give because we are forgiven and we want others to experience it as well. We serve because we are forgiven.
Sin entered into the world through Adam's original sin, and since then, God has been attempting to reconcile Man to God- he wants relationship with us- but our sin separates us from God is such a way that if our sin isn't covered, we can't be in his presence
This story illustrates Jesus ability and power to forgive sin- You'll notice in the story, that the man is brought to him, not because of his spiritual infirmity, but because of his physical infirmity and is healed of both
The impact of this event cannot be understated- The image of this man being forgiven and healed amazed all who were there and they glorified God because of it
5 When Jesus saw their faith, He said to the paralytic, "Son, your sins are forgiven you."
You'll notice in this story- that earlier- four men pushed through the crowd and lowered the paralytic man through the roof of the house where Jesus was preaching
Now- I always thought that this was a group of friends who lowered their friend- but if you look at the text, you'll see that it was some guys, lowering a guy- that's about it
Total conjecture here- but these guys could have even been putting Jesus to a test
Lets believe the best here- they wanted this man to be healed of his paralysis. For him to be well, so they bring him to Jesus
You would think- the first thing Jesus would do- would heal this guy of his infirmity- been dealing with it for years
But no- He addresses this man as "son" a term of endearment- (God always deals with us well)
And says "Your sins are forgiven you"
Why did Jesus forgive this mans sins, instead of healing him?
3 reasons- 1 Jesus wanted everyone to know the primary reason that he came- to forgive sin
2 he wanted to use the healing as a proof of his power to forgive sin
Any man who could heal a body, certainly had the power to forgive sin as well
3 He wanted this man to realize what was the most important thing in his life
The truth is that our true issues are issues of the heart and not of the body or circumstance
Often times- we come to God with our list of wants and desires that have nothing to do with what we truly need
There are sad, frustrated, angry, guilty ridden Billionaires that have no rest for their souls-
There is not a price that you can put on peace with God- and knowing that you have a clear conscience
The truth is that most sin is an attempt to cover up a wrecked conscience- cover up upon cover up
A wrecked conscience is a horrible thing- we want to be like Job Job 27:6 My righteousness I hold fast, and will not let it go; My heart shall not reproach me as long as I live.
A heart that has done wrong will gnaw at you and Christ comes to set this us free
Don't think that just because this man is infirmed that he hadn't committed any sin- sin is sin- and even a paralyzed man can fall into sin
What does it mean to you?
Let God deal with your heart issues not your physical issues- Go to the Dr Nowadays- they want to give you a pill to fix the symptom not get to the bottom of the issues of what is causing it AFRAID TO TELL PEOPLE THE TRUTH-
I've seen many a person angry with God because God wouldn't fix their life issues, even though God was more than able to fix their heart issues
Mad at God because of the job they have, the house they have, the car they drive, the spouse they have, the kids, the body, the health, the stuff, the experiences
God can and will fix all that stuff- maybe, but his MOST important job is to fix your sinful rotten heart and
Can we get past this idea that Jesus came to fix all of our problems and realize that the number one problem he came to fix was our hearts? That we were born into sin and needed a savior?
No different than our kids- what toys we have. Where we live. What we have-
My job as a parent is to parent you. Help you get a good kick start on life and be a good person
Its not to satisfy your every sinful need
Christ came to save sinners- you have to believe this Ephesians 1:7 In Him we have redemption through His blood, the forgiveness of sins, according to the riches of His grace
2. Don't Discount anyone
6 And some of the scribes were sitting there and reasoning in their hearts, 7 "Why does this Man speak blasphemies like this? Who can forgive sins but God alone?"
8 But immediately, when Jesus perceived in His spirit that they reasoned thus within themselves, He said to them, "Why do you reason about these things in your hearts?
What was happening here was that there were some scribes that were sitting around watching this whole thing go down and when Jesus started forgiving sin, they started to get a bit concerned about it
Why is Jesus forgiving that guys sin? Why is he leading people into a deeper relationship with the Father? We've been serving God for a long time, and now this "savior" thinks he can do this
Whats interesting is that they weren't even speaking it- they were just thinking it in their hearts
Basically- Who does Jesus think he is and why is he doing what he is doing for this man?
Their issue was their hearts- they were trying to make sense of why Jesus could and would forgive this man- they couldn't believe or accept that Jesus would forgive this man
What does it mean to you?
How many times have you spent mind time trying to figure out why God is moving in someone else's life a different way? God- why don't you work in MY LIFE that way? You don't know what they had to go through to get to where they are at- You don't know the tears- the pain
How many times have you "reasoned in your heart" that God should have done it differently, or should have consulted you, or that someone wasn't deserving of the grace of God in a situation
Envy and jealousy are horrible things and we shouldn't spend any time focusing on it
James 3:16 16 For where envy and self-seeking exist, confusion and every evil thingare there.
If you want to see a tormented soul- look for someone who lives a life of envy- their whole life is in shambles because the root of their heart is bitter, angry and resentful
I know this well- many times in the past I couldn't enjoy what God had given someone else- because I was jealous he hadn't given it to me- Didn't effect anyone but me
How despicably sad that we can't rejoice in someone elses Good favor or fortune
SHouldn't we be excited with someone who is experiencing the blessings of God? Specifically the forgiveness of their sins?
James 3:14-15 But if you have bitter envy and self-seeking in your hearts, do not boast and lie against the truth. 15 This wisdom does not descend from above, but is earthly, sensual, demonic.
It is the most scandalous thing that God would forgive someone of their sin when they don't deserve it- BUT THAT'S WHAT HE DOES- HE FORGIVES EVERY ONE WHO ASKS
Romans 10:13 For "whoever calls on the name of the Lord shall be saved."
Live however they want their whole life sinning it up and then at the last moment cry out to God in desperation- it doesn't make any sense
Micah 7:18-19 Who is a God like You, Pardoning iniquity And passing over the transgression of the remnant of His heritage? He does not retain His anger forever, Because He delights in mercy. 19 He will again have compassion on us, And will subdue our iniquities. You will cast all our sins Into the depths of the sea.
Don't reason away God's grace- embrace it and believe it for other people including YOURSELF
9 Which is easier, to say to the paralytic, 'Your sins are forgiven you,' or to say, 'Arise, take up your bed and walk'? 10 But that you may know that the Son of Man has power on earth to forgive sins"—
This right here- Jesus displays to these unbelieving guys that he can forgive sin and he proves it to them by healing this man right before their eyes
Jesus wanted this guy to know that he was forgiven and wanted these guys to know that he did in fact have the power to forgive sin
Whatever this guy had done in the past, whatever person he may have hurt. What ever he may have said, done, seen, thought, did either by accident or by design- he had been forgiven
No longer would his sins be held against him. We was now a new creation- bound for glory and living in the glory of the son- God had forgiven him his sins and he was now in right relationship with him
Isaiah 43:25 "I, even I, am He who blots out your transgressions for My own sake; And I will not remember your sins.
Colossians 1:13-14 He has delivered us from the power of darkness and conveyed us into the kingdom of the Son of His love, 14 in whom we have redemption through His blood, the forgiveness of sins.
What does it mean to you? You are truly forgiven
If you have taken the step of coming to Christ and believed that he has forgiven you of you sin- then YOU ARE FORGIVEN
Finally debt free- took 7 years- last payment $350 dollars a month- not still sending payments
No devil can take that away from you. No person can shame you from it. Nothing can take it from you. You are sealed and secure in his presence and able to abide in his love for eternity!
2 Corinthians 5:17 Therefore, if anyone is in Christ, he is a new creation; old things have passed away; behold, all things have become new.
You are a NEW creation- NEW- no longer like your old self- no longer like the sin of your past
Hebrews 10:17 then He adds, "Their sins and their lawless deeds I will remember no more."
What should you do with it?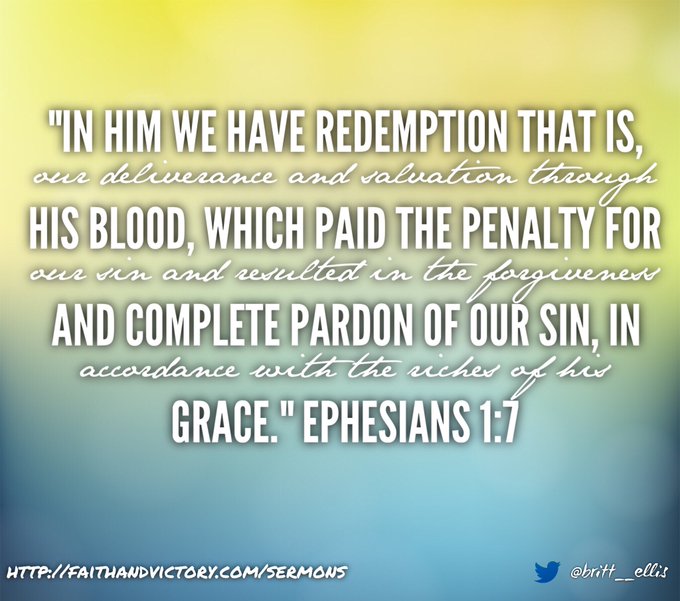 He said to the paralytic, 11 "I say to you, arise, take up your bed, and go to your house."
This paralytic was told- take up your bed- and go to your house- Don't sit around wallowing any more in your sin- don't sit around wondering about your past and your value- YOU'RE NEW
Some people, long after Christ had forgiven them, sit around far too long talking about their mat that they have in their hand that Christ has already redeemed them from.
Laying around on a mat that you've been healed from is about as pointless as it gets
That mat stinks. It reeks of the past. It no longer has any purpose or value. Get off it- and MOVE ON
What mat has Christ delivered you from that you are still laying on? TAKE UP YOUR BED-
12 Immediately he arose, took up the bed, and went out in the presence of them all, so that all were amazed and glorified God, saying, "We never saw anything like this!"
When you go around and walk in the fullness of the forgiveness of what Christ has done in you you are a living testimony to what God can do with someone who comes to him
Go out there and live your life! Talk to people about what God has forgiven you from and what you have been through and what God has done with your life!