His Eye Is On The Sparrow
– A Delta Force member in the early 80's, told this story: Cancelled rescue mission, already awake for 24 hours and now in enemy territory, just needed to refuel so they could make the return trip.
– He slipped back into the plane to take a nap, woke up to flames all around and believing they had been attacked in the air and that they were going down his, only option was to jump from the plane.
– Immediately after jumping he hit the ground face first in the dirt. He team was waiting outside the plane and saw the whole thing. "Perfectly executed jump soldier, but where is your parachute?"
– "One problem at a time Sarge. One problem at a time."
Sometimes the problems in our life can stack up quicker that we can prioritize or fix them.
– So many small problems at once: Laid off, roof leaking, sick kid, surprise medical bill…
– Where do you even start? You just got to take it one problem at a time!
– Example: Arriving at a fire scene, things are happening very fast:
– You need to quickly determine 3 things:
– What are your problems? (Rescues, exposures, fire, smoke…)
– Which are your priorities? (Life safety, property conservation…)
– What resources you will need? (A house fire will get 9 rigs and 22 people minimum.)
– My Chief used to say, "Put out the fire and all of your problems go away."
– Do this one thing, address the main problem, and everything else works itself out.
– Jesus gives us a similar spiritual message in the book of Matthew:
Matthew 6:31-33, "So don't worry about these things, saying, 'What will we eat? What will we drink? What will we wear?' 32 These things dominate the thoughts of unbelievers, but your heavenly Father already knows all your needs.33 Seek the Kingdom of God above all else, and live righteously, and he will give you everything you need."
Context/History
– This is the beginning of Jesus' ministry, the Sermon on the Mount, He is teaching his disciples while the crowd gathers around to listen.
– In Matthew chapter 6, Jesus says this:
– Give to the needy, but not in a way that draws attention to yourself.
– Pray, but not in a showy way that is for the benefit of those watching you.
– When you fast don't make it obvious like the hypocrites, keep it between you and God.
– Don't hope and trust in money, put your hope in the Lord. You can't serve two masters.
– Each teaching is highlighting the "heart condition" behind the actions and behaviors.
– Don't perform for people. Live a life honoring to God, himself.
– "Righteousness" can be defined as, "Doing the will of God as Jesus reveals it."
– Do these righteous things: Give. Pray. Fast. Don't love your money or stuff…
– Do this, "and your Father, who see everything, will reward you." (6:4, 6:6, & 6:18)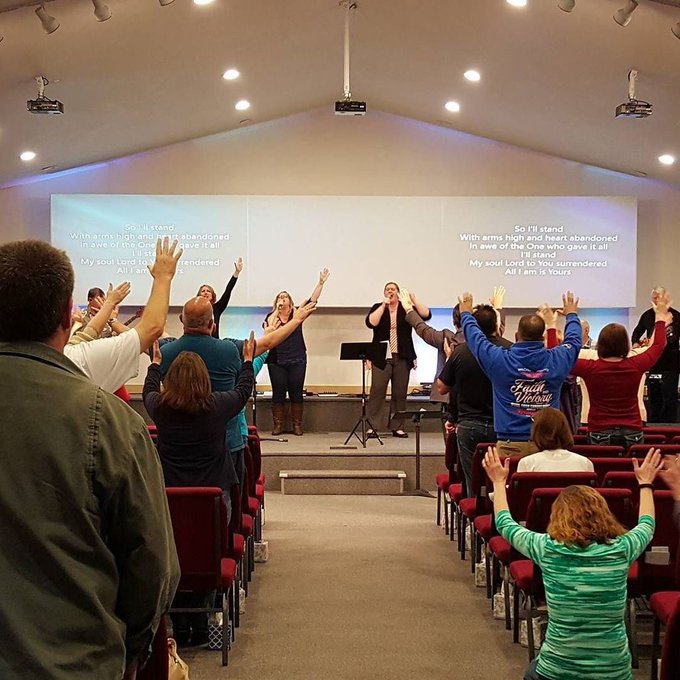 – Matthew 6:25-26, 25 "That is why I tell you not to worry about everyday life—whether you have enough food and drink, or enough clothes to wear. Isn't life more than food, and your body more than clothing? 26 Look at the birds. They don't plant or harvest or store food in barns, for your heavenly Father feeds them. And aren't you far more valuable to him than they are?"
– Don't worry about your basic needs being met. (Savings, future plans, clothes, food…)
– This doesn't say, "Don't plan.", or "Don't save." Just "Don't worry."
– If you can see God taking care of the birds and the flowers; that should give you confidence that he is going to take care of you too. You are worth more to him!
– Matthew 10:29-31, "What is the price of two sparrows—one copper coin? But not a single sparrow can fall to the ground without your Father knowing it. 30 And the very hairs on your head are all numbered. 31 So don't be afraid; you are more valuable to God than a whole flock of sparrows."
– (Verse 32) Don't worry like the unbelievers do.
– Unbelievers need to worry, because they don't know the Provider. (Life is unstable.)
– If you are living like an unbeliever, maybe you need to worry too? If you don't trust God for your needs, who are you trusting? (Government, money, spouse…)
– Some people are NOT living a righteous life. They love Jesus, but they live for themselves.
– Then they question God saying, "Why aren't you giving me what I need, like the bible says?" (I think you know the answer!)
– God already knows what we need! Prayers do not inform God of our needs. Prayer expresses trust in God's provision. – Do you trust in his provision?
Remember this today:
*Focus on loving and obeying Jesus, and the Bible says that he will provide for all of your needs*
– This is the most important thing!
– 1 John 5:3, "Loving God means keeping his commandments…"
– His eye is on the sparrow, and I know he's watching over you. He loves you the most!
Where do we go from here:
– "One problem at a time, Sarge":
– When you have a lot of work ahead of you, you have to compartmentalize it.
– Like eating an elephant, right? (One bite at a time.)
– Break the work up into individual tasks, starting with what is the most important.
– Fix the problem of your heart condition towards God first. The rest will sort itself out.
– Make Jesus the center of your focus and needs.
** A "Jesus-centered" LIFE is made up of "Jesus-centered" DAYS! **
– Psalms 145:2, I will praise You every day; I will honor Your name forever and ever.
– We are creatures of habit. It is easy to get stuck in a cycle of behavior.
-We need to make time for what we truly value, and build our routines around things that really matter to us.
– Example: Steven Coveys "Big Rocks" principle of time management, from Seven Habits of Highly Effective People.
– Big rocks: Important things; priorities; must haves (family, spiritual life, Job, health, etc…).
– Little rocks: Things that seem important, but can wait (mowing, cleaning, tv shows, etc…).
– Build your life around the important things, fill in with the little stuff; not the other way around.)

– Maybe everything in your life is "big rocks", and they all are necessary, and have to get done.
– You are too busy to add one more thing, no matter how important I say it is.
– Are you ever too busy driving to stop and get gas? (How did that work out for you?)
– Change your perspective.
– Example: Is 23 ½ hours a day enough?
– Dr. Evans studied one medical treatment given to a test group showing these results:
– It reduced the onset of Alzheimer's and dementia by 50%.
– It reduced the number of those suffering with anxiety by 58%.
– It reduced the number of cases of depression by 47%.
– It actually ended the symptoms of diabetes in 58% of patients.
– It's the #1 treatment for fatigue, and shown in all cases to raise a person's quality of life.
– The miracle drug? Exercise 30 minutes a day. (Even just walking.)
The Question today:
– Is 23 ½ hrs a day enough time to sleep, eat, watch tv, work, study, etc…
– Is your life too busy to spend ½ hour focusing on your Lord and Savior?
– This is the most important "big rock" in your life. You have to make time for it!
Conclusion
– Even if you don't feel like you packed a parachute, don't get overwhelmed by your problems.
– Just deal with them, "One problem at a time."
– You have to make Jesus your main focus.
– Put him in the center, and build everything else in your life around him.
– Verse 33, "Seek the Kingdom of God above all else, and live righteously, and he will give you everything you need."
– His eye is on the sparrow, and I know he watches over you!
– prayer –