It's a Wonderful FOOTBALL Life
Super Bowl Sunday. I am from TX, I like football. It was a mandatory requirement for being a TX resident.
In honor of the Super Bowl, we are going to talk about the great game of life called football.
How do you measure success?
Only 1.6 % of college football players make it into the pros- one might say you are successful if you get drafted into the NFL, but the reality is that most football players 98.4% will not go into the NFL
At Liberty University, head coach Danny Rocco took over a program that was 1 and 10, and in 5 years took them to consistent level of championship caliber. Since he took in Dec of 2005, he has lead the team to 4 Big South Conference Championships in 2007 (the first in school history), 2008, 2009, 2010; been selected as coach of the year 3 times, been nominated for the Eddie Robinson and Liberty Mutual Coach of the Year awards on 3 different occasions.
He has done it with a relentlessly attacking offense that mixes a power running game and play action and a deep passing game that stretches the field, and a defense designed to play fast, smart and aggressive. But more than that, Coach Rocco has done it by recruiting and developing character and relying on the admonition and direction of God's Word. This coach knows that his players aren't going to the NFL, so he wants to instill in them godly character, which will take them further in life
God doesn't measure success the way we measure success- We measure success by working hard to achieve our goals, climbing the ladder, making a lot of money, getting into the NFL, winning BUT
God measures success by our faithfulness to Him.
Matthew 6:31-33 "Therefore do not worry, saying, 'What shall we eat?' or 'What shall we drink?' or 'What shall we wear?' 32 For after all these things the Gentiles seek. For your heavenly Father knows that you need all these things. 33 But seek first the kingdom of God and His righteousness, and all these things shall be added to you.
It doesn't matter what others see, are you seeking The Lord and acknowledging Him in all your ways?
Then you WILL be successful.
Are you doing what He asked YOU to do? Then you are successful.
Success isn't found in the gaining and achieving of things- it is found in losing
Luke 17:33New King James Version (NKJV)
33 Whoever seeks to save his life will lose it, and whoever loses his life will preserve it.View image on Twitter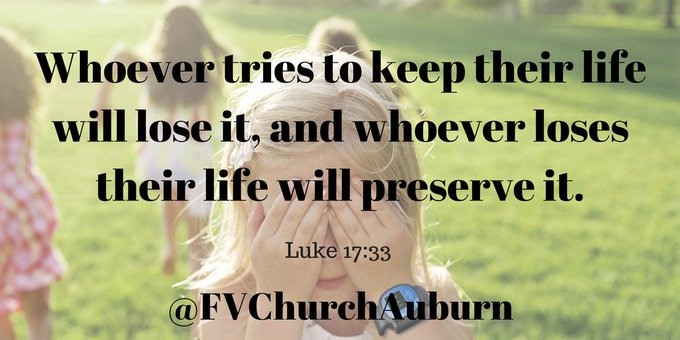 Success isn't found in the taking- it is found in the giving away
Luke 6:38 Give, and it will be given to you: good measure, pressed down, shaken together, and running over will be put into your bosom. For with the same measure that you use, it will be measured back to you."
The measure to which you give something, will be the measure that it is given back to you-
this includes all things: money, your time, forgiveness, encouragement, kindness, etc and the list goes on.
Galatians 6:7 Do not be deceived, God is not mocked; for whatever a man sows, that he will also reap.
Play the Position God gives you
Faith is a big component in a football team's game plan. A "Cover-2" defense requires faith and trust to work. Players cannot just run to the ball in a Cover-2, even though that's their natural instinct. They have to protect their areas, guard the gaps, and trust the system, whether it looks like they are going to be involved the play or not. If each player can depend on the others to carry out their assignments, the defense works effectively. If they don't have faith in their teammates, they abandon the play and open up holes for the offense to exploit.
Running an offense requires faith too. A QB has to throw the ball to a spot before the receiver has gotten there or even begun to cut in that direction. He has to trust that the receiver will run his route correctly, and the receiver has to stick with the route that was planned, trusting that the ball will arrive in the right place at the right time. If either player depends entirely on what he sees and not on the plan as it was designed, the pass will result in an incompletion or an interception. They have to believe in the route.
God doesn't measure success the same way we do. #FVCLive

— Shelby Brush (@Shelbubbly) February 5, 2017
That's how this Christian walk works. We have to trust that the assignment God has given us is the right one, whether or not it looks like it is going to work out.
2 Corinthians 5:7 For we walk by faith, not by sight.
It's not a faith in our faith- it is a faith in God. A faith that believes that He knows what He is doing. He knows where He is going with His plan for you.
He can see the end result when you cannot.
Ex: I cannot tell you how many times it looked like our church was going to fail. We had about 50 people and some gossip broke out about Ps Matt and I misusing the tithe and we lost half of our families. It looked like we would fail.
But it only LOOKED that way. We look at the natural, God looks at the spiritual. He knows what HE is doing.
You have to TRUST God's plan. Trust the route that He is having you run right now. Don't worry, just be ready to receive that ball cause it's coming your way.
God will never ask you to do something that He has not already made the provision for.
Genesis 22:8-14 And Abraham said, "My son, God will provide for Himself the lamb for a burnt offering." So the two of them went together.
9 Then they came to the place of which God had told him. And Abraham built an altar there and placed the wood in order; and he bound Isaac his son and laid him on the altar, upon the wood. 10 And Abraham stretched out his hand and took the knife to slay his son.
11 But the Angel of the Lord called to him from heaven and said, "Abraham, Abraham!"
So he said, "Here I am."
12 And He said, "Do not lay your hand on the lad, or do anything to him; for now I know that you fear God, since you have not withheld your son, your only son, from Me."
13 Then Abraham lifted his eyes and looked, and there behind him was a ram caught in a thicket by its horns. So Abraham went and took the ram, and offered it up for a burnt offering instead of his son. 14 And Abraham called the name of the place, The-Lord-Will-Provide;[b] as it is said to this day, "In the Mount of the Lord it shall be provided."
MVP
Since the first Super Bowl in 1967, 46 MVP awards have been handed out.
In the first four Bowls, the QB from the winning team was selected-
Bart Starr in 1967-1968, Joe Namoth in 1969, 1970 was Len Dawson and every year since, the award has been handed out to a member of the winning team, except in 1971, when the Dallas Cowboys linebacker Chuck Henley won the award in a game against the winning Baltimore Colts.
The break down by position of MVP selected is:
kick returner-1
running backs-7
wide receivers-6
defensive players-8
QB's-24
In the 45 year history of the Super Bowl, not one offensive lineman has won the award; yet try to play the game without them. Try to win the Super bowl without a stellar O line
How many QB's would have won the MVP award if they had been consistently sacked, hurried and hit?
Romans 12:3-8 New King James Version (NKJV)
3 For I say, through the grace given to me, to everyone who is among you, not to think of himself more highly than he ought to think, but to think soberly, as God has dealt to each one a measure of faith. 4 For as we have many members in one body, but all the members do not have the same function, 5 so we, being many, are one body in Christ, and individually members of one another. 6 Having then gifts differing according to the grace that is given to us, let us use them: if prophecy, let us prophesy in proportion to our faith; 7 or ministry, let us use it in our ministering; he who teaches, in teaching; 8 he who exhorts, in exhortation; he who gives, with liberality; he who leads, with diligence; he who shows mercy, with cheerfulness.
Guess what? This Christian life is not about you.
The MVP of our game is JESUS.
It's not about you getting the glory- It's about Jesus getting the glory.
Wigglesworth "If there is anything in you that likes to be seen or heard, it will have to die; for Jesus must have all the glory in a person"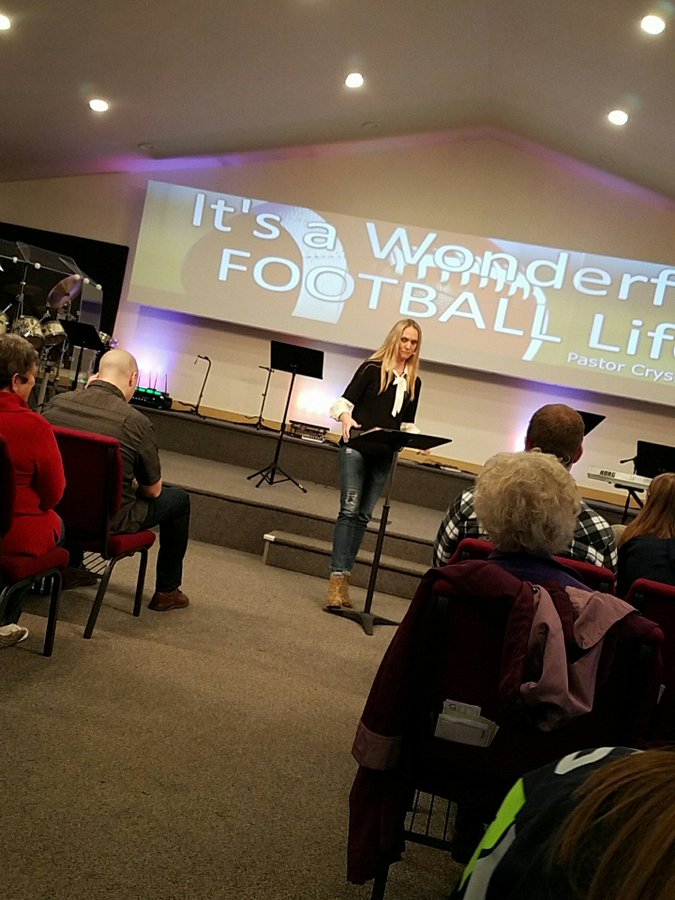 Remember success is not measured by whether or not you accomplish a goal- its measured by your faithfulness.
Don't worry about what others are doing or not doing- just do what God has asked you to do. Period.
This is one of my favorite scriptures:
john 21: 20-22 Then Peter, turning around, saw the disciple whom Jesus loved following, who also had leaned on His breast at the supper, and said, "Lord, who is the one who betrays You?" 21 Peter, seeing him, said to Jesus, "But Lord, what about this man?"
22 Jesus said to him, "If I will that he remain till I come, what is that to you? You follow Me."
Don't be jealous of another's gifts! God saw fit to give you YOUR gifts and He thinks your gifts fit you perfectly. Do not compare yourself to others and don't let others compare you to anyone else.
EX: A lot of people have asked Pastor Shelly why she doesn't preach and her answer is always, "because that is not what I am called to do" yet, she could preach if she had to
Now, sometimes you have to fill in the gap, me and Ps Matt starting the church. We both led worship. He preached, I ran children's church. Ps Matt is the senior pastor- but he is not more valuable than anyone else- he's just playing the position God assigned to him
Guess what? If you are not doing your part, it means someone else is picking up the slack.
God will is going to be done and if you won't do what He's called you to do- He will raise up someone else who is willing to say, "Here I am, send me"
Let Jesus work in you. Let Him have His way in you. Give Him the glory!
Be a good sport.
Peyton Manning is definitely one of my all time favorite football players. Why? Not because he's such a great QB, (which he is, Football Jesus) but because he is a man of character. He owns his mistakes. He doesn't play the blame game. Russell Wilson and Pete Carroll are the same way. If the Seahawks play a bad game, they own it. They don't blame the other team and they definitely do not blame each other.
Watch an interview with Manning or Wilson after a loss- he's the team captain, he owns his mistakes.
Watch Cam Newton in an interview after a loss- he stomps off the stage. He's a poor sport.
I think we all like to own our wins- but it's how you act when you lose that displays your character.
Do you own your mistakes? or do you blame others, or worse God?
Genesis 3:8-13 And they heard the sound of the Lord God walking in the garden in the cool of the day, and Adam and his wife hid themselves from the presence of the Lord God among the trees of the garden.
9 Then the Lord God called to Adam and said to him, "Where are you?"
10 So he said, "I heard Your voice in the garden, and I was afraid because I was naked; and I hid myself."
11 And He said, "Who told you that you were naked? Have you eaten from the tree of which I commanded you that you should not eat?"
12 Then the man said, "The woman whom You gave to be with me, she gave me of the tree, and I ate."
13 And the Lord God said to the woman, "What is this you have done?"
The woman said, "The serpent deceived me, and I ate."
Adam first blamed his wife and then he blamed God- "the woman YOU gave me"
Dangerous place to live
Ex: UC Berkley rioting, read the comments "the republicans incited this"
Folks, this is not true repentance. It's a worldly sorrow that says, "I was caught. I am sorry."
Rather than a heart that is truly sorrowful for a wrong.
2 Corinthians 7:10 [Full Chapter]
For godly sorrow produces repentance leading to salvation, not to be regretted; but the sorrow of the world produces death.
YOU are responsible for your own actions! You are responsible for your words.
Now, can God still pick you and heal you, even if the wounds have been self-afflicted- ABSOLUTELY
Just own it, repent and move on.
God never asks you to be perfect, just obedient! You will fail and you will make mistakes- repent and move on!
Proverbs 24:16New King James Version (NKJV)
16 For a righteous man may fall seven times And rise again, But the wicked shall fall by calamity.
There's no swearing in the locker room.
Did you know that in most football locker rooms that swearing is not allowed?
But yet, on the field, anything goes.
It seems that the players are able to control their mouth in certain areas at certain times, but not at others. Hogwash
How come you can control your mouth in certain situations, but not in others?
We certainly would talk differently in a Kindergarten classroom than in a bar- why is that?
It is because you DO NOT want to have to control your tongue.
It is a choice to talk a certain way or to not talk a certain way.
Matthew 12:36-37New King James Version (NKJV)
36 But I say to you that for every idle word men may speak, they will give account of it in the day of judgment. 37 For by your words you will be justified, and by your words you will be condemned."
See, words are powerful. They are containers. We can build people up or we can tear them down.
"Sticks and stones"- not true
Words can hurt. They can stick with you your whole life.
Ex: my mom was a real bad alcoholic and said horrible things to me when she was drunk. These are the words that ring in my ears when I am under an attack of the enemy
James 3:2-12 For we all stumble in many things. If anyone does not stumble in word, he is a perfect man, able also to bridle the whole body. 3 Indeed,[a] we put bits in horses' mouths that they may obey us, and we turn their whole body. 4 Look also at ships: although they are so large and are driven by fierce winds, they are turned by a very small rudder wherever the pilot desires. 5 Even so the tongue is a little member and boasts great things.
See how great a forest a little fire kindles! 6 And the tongue is a fire, a world of iniquity. The tongue is so set among our members that it defiles the whole body, and sets on fire the course of nature; and it is set on fire by hell. 7 For every kind of beast and bird, of reptile and creature of the sea, is tamed and has been tamed by mankind. 8 But no man can tame the tongue. It is an unruly evil, full of deadly poison. 9 With it we bless our God and Father, and with it we curse men, who have been made in the similitude of God. 10 Out of the same mouth proceed blessing and cursing. My brethren, these things ought not to be so. 11 Does a spring send forth fresh water and bitter from the same opening? 12 Can a fig tree, my brethren, bear olives, or a grapevine bear figs? Thus no spring yields both salt water and fresh.[b]
What's coming out of your mouth?
Play hard until the end.
"The Comeback" was an NFL playoff game between the Buffalo Bills and the Houston Oilers played on January 3, 1993. It featured the Bills recovering from a 32-point deficit[1][2] to win in overtime, 41–38, and as of January 2017 it remains the largest comeback in NFL history.[1]
AT half-time, in the Bills' locker room, Defensive Coordinator Walt Corey angrily chided the defense. "I was hollering the same things the fans were hollering at me when we left the field", Corey says. "I can't repeat the words, but the more I talked, the louder I got. The thing that bothered me was their approach. To me, they looked timid. They looked like they were going to get in the right spots, but they weren't going to make anything happen afterward. This is an attitude game. Sometimes you start playing and you're afraid to make things happen or afraid to make a mistake." Nose Tackle Jeff Wright recalled "With every word that came out of Walt's mouth, he reached a new temperature level, until he finally just exploded. He had every right to say the things that he said. We were embarrassing him, we were embarrassing ourselves, we were embarrassing Buffalo Bills fans."
Meanwhile, head coach Marv Levy told his team, "You've got thirty more minutes. Maybe it's the last thirty minutes of your season. When your season's over, you're going to have to live with yourselves and look yourselves in the eyes. You'd well better have reason to feel good about yourselves, regardless of how this game turns out."[3]
Many left the stadium while the Oilers had the large lead; Reich saw "a big wave of people leaving", which Buffalo News reporter Vic Carucci described as "they're pouring out of the gates, getting in their cars, driving home". They returned when they heard on the radio of the Bills' comeback; tickets did not permit reentry, so people climbed fences until the stadium reopened the gates. Team general manager Bill Polian recalled how the same fans who had left in disgust after denouncing to him the Bills' inability to beat the Oilers, ran back to their seats praising the team. Kelly said, "the old saying was, 'Did you know that 150,000 people went to the Buffalo Bills football game?'", Levy said "70,000 people were at that game. I've already met 400,000 of them", and Steve Tasker joked "I've met 1.2 million people who say they were in the stadium".[4]
Carucci stated of the game:[4]
It reset the love affair with that team. People had become jaded, people had become upset with the idea that they just didn't see the success at the end of the rainbow. And now they had this, and this reminded them of how special this football team really is.
The Seahawks played a game like this a few years ago against Green Bay. We had a friend at the game who left with most of the crowd and listening to the game tried to get back in but was shut out.
There's a sermon in there somewhere.
We don't let our kids quit anything that they start- they have to finish up the season, even if they hate it or it seems too hard. Why? Because it teaches them how to overcome adversity.
GUESS WHAT? IT'S NOT OVER!
You may be down 32-0 at halftime- but it's half time!
The game is not over! You have to run your race until the END.
It may look bleak- but it only appears that way right now.
GOD IS NOT DONE WITH YOUR LIFE!
Too many quit before they see their miracle
2 Timothy 4:7-8New King James Version (NKJV)
7 I have fought the good fight, I have finished the race, I have kept the faith. 8 Finally, there is laid up for me the crown of righteousness, which the Lord, the righteous Judge, will give to me on that Day, and not to me only but also to all who have loved His appearing.
Matthew 10:22 And you will be hated by all for My name's sake. But he who endures to the end will be saved.