Mark 1:1-8
was just a messenger- Behold I send my messenger
Johns message was pretty simple- Prepare the way of the Lord- make straight his paths!
Johns message was to PREPARE people for the arrival of the messiah- to the arrival of JESUS
He was preaching a baptism for the remission of sins (forgiveness) and repentance
His message wasn't that the sinners should be saved- but that hearts should be prepared
John's message of "prepare the way " and "confess your sins" was a means by which people could turn their hearts towards God BEFORE Jesus came into their lives-
He wasn't concerned about anything more than people turning towards God and confessing their sins
His message was IMPORTANT- Jesus declared so Luke 7:28– 28 For I say to you, among those born of women there is not a greater prophet than John the Baptist;[d] but he who is least in the kingdom of God is greater than he."
John's message was important to the expansion of the kingdom- he knew his message- he preached his message. It had an impact and it changed people's lives
If your life was written into the Gospels, what would Mark have included about your life?
Is the message of your life consistent with the words of Jesus and the Bible?
Sure, your message can be the same as John- prepare and repent- not a bad idea
You preach a message every day to the people you interact with- what are you preaching?
We should be mindful of the message that we are preaching to those around us
Matthew 5:16 Let your light so shine before men, that they may see your good works and glorify your Father in heaven.
Are we preaching a message that God would approve of and people need to hear?
You're saying something- you're spreading a message, but what is it? Is it a message bout YOU or HIM?
1 Peter 3:15 But sanctify the Lord God in your hearts, and always be ready to give a defense to everyone who asks you a reason for the hope that is in you, with meekness and fear;
How you live your life preaches a message-
How you spend your time preaches a message-
Sure, you may not be able to articulate the nuances of the Bible- but you can prepare peoples hearts for the word of God when it comes upon them-
Gently turning their hearts towards God through your actions and words and convictions
What you WONT do is just as important as what you WILL do
Here's the deal- its not about YOU and YOUR message its about CHRIST and HIS message
Is the message of your life that its all about YOU or that its all about HIM?
John could have made it about him- he was significantly special- but he didn't preach himself
Is this your prayer? Colossians 4:3 meanwhile praying also for us, that God would open to us a door for the word, to speak the mystery of Christ, for which I am also in chains,4 that I may make it manifest, as I ought to speak. 5 Walk in wisdom toward those who are outside, redeeming the time.6 Let your speech always be with grace, seasoned with salt, that you may know how you ought to answer each one.
John had mission
Mark 1:5Then all the land of Judea, and those from Jerusalem, went out to him and were all baptized by him in the Jordan River, confessing their sins
Johns message was his mission- baptizing and leading people in repentance
John had some serious work to do-led people to God Preaching a baptism of repentance-
Helping people to turn towards God- to make their life right- the right direction- a turning towards
Johns mission was so clear- that all over Judea and Jerusalem- people came and went out to him- and were baptized by him, and were confessing their sins
Notice- Jesus hadn't even COME yet- John's message was SO compelling that people came and were repenting and getting baptized BEFORE Jesus came- They were desperate for God and John the Baptist was leading them to relationship with the creator
He knew what he work was- so he did it. He didn't let people distract him from what he knew he was supposed to be doing- preaching and baptizing
He knew what his work was and he was doing it-
Do you know what you're supposed to be doing?
2 Peter 1:10 Therefore, brethren, be even more diligent to make your call and election sure, for if you do these things you will never stumble;
First and foremost- You're supposed to be living wholly and completely for God D
Deuteronomy 13:4 You shall walk after the Lord your God and fear Him, and keep His commandments and obey His voice; you shall serve Him and hold fast to Him.
Walk with him, follow the word, Obey what he tells you, serve him, Hold onto him
Matt 22:37Jesus said to him, "'You shall love the Lord your God with all your heart, with all your soul, and with all your mind.' 38 This is the first and great commandment. 39 And the second is like it: 'You shall love your neighbor as yourself.' 40 On these two commandments hang all the Law and the Prophets."
Sure, you're supposed to have a job- you need to provide for your family
Yes- you're supposed to take care of your kids- they need your leadership
But your MAIN WORK is to LOVE GOD and LOVE PEOPLE- and that's not just in the CHURCH that's with your LIFE
People want to live as a Christian within the church- but not the other 6.5 days of the week
The other 6.5 days of the week is the rest of your life that you're living- are you doing your work?
Eph 4:1 I, therefore, the prisoner of the Lord, beseech you to walk worthy of the calling with which you were called,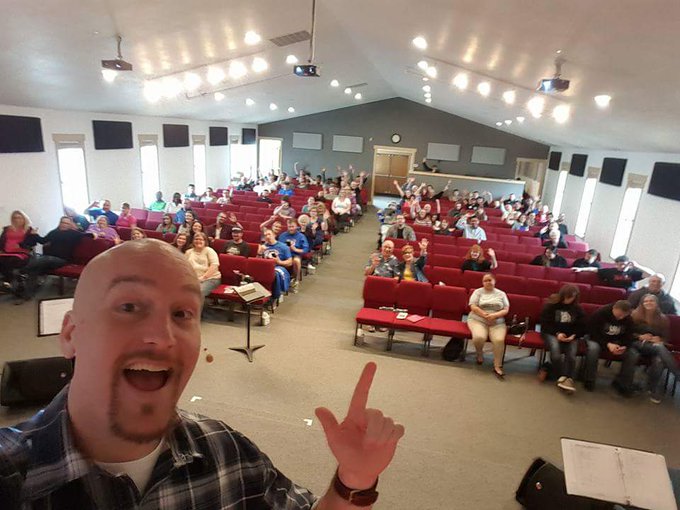 John had conviction
Conviction that pushes back against the consensus of the day is rare nowadays
John didn't go along with trends- he wasn't like everyone else-
Mark 1:6Now John was clothed with camel's hair and with a leather belt around his waist, and he ate locusts and wild honey.
John the Baptists dress and choice of nourishment is a statement to those around him- I'm not going to follow the current trends of how you people live
Camel hair isn't soft btw- John wearing this says- If I must wear clothes I shall, but comfort isn't going to drive me. You guys eat meat? Pshaw- I eat Locusts and honey! Mans food!
John doesn't want to live like the world, look like the world, or eat like the world- he wants to make sure that his difference was simply to show what was most important in his life
Henry said this of John's external way of living "great self-denial, mortification of the flesh, a holy contempt of the world, and nonconformity to it"
Simply put- Conviction didn't care what people thought- because it wasn't about HIM
Because he didn't care what people thought- he was able to stay on message and mission
John realized its not about himself, its about JESUS- HIS mission HIS message HIS ways
You can't spend your life caring what people think about you and be effective
What does it mean to you?
Have some conviction! That doesn't mean to wear camels hair and eat locusts, but be willing to buck the trend! ITS NOT ABOUT YOU!!!!
1 Corinthians 4:2 2 Moreover it is required in stewards that one be found faithful.
You are a steward of the things of God and should have some conviction about it
Its really the problem with modern day Christianity- is the apathy of believer
We don't have conviction about much. We do what the world does and have what the world has
Faith's band- Playing a song that was inappropriate- a parent said something- was proud
The apathy of our forefathers has returned its yield from its sowing- we are very apathetic
I'm always amazed when Christian people will work on Sundays and miss church
Title VII of the Civil Rights Act of 1964 prohibits employment discrimination based on religion. This includes refusing to accommodate an employee's sincerely held religious beliefs or practices unless the accommodation would impose an undue hardship (more than a minimal burden on operation of the business).
People will say "I'm afraid of losing my job if I say something" ITS NOT ABOUT YOU
Who's your provider? Who's the one who gets you a job? You pray to get a job and then not make serving God a priority?
Taking part in things at school or a work that go against your religious convictions- apathy
Hebrews 3:14 For we have become partakers of Christ if we hold the beginning of our confidence steadfast to the end,
We must hold steadfast! We must hold our convictions!
I get that you wont be making friends on this trip- "I just want to make friends
2 Peter 3:17 You therefore, beloved, since you know this beforehand, beware lest you also fall from your own steadfastness, being led away with the error of the wicked;
Do you know what I see Christians have conviction about?
Not missing their television programming.
Maintaining their adherence to a dietary allergic conviction- (Gluten, red no 5, meat etc)
Drinking their coffee, doing their exercise,
Convictions about getting their way, not willing to serve in an area, rebellious in their attitudes about clearly defined standards in scripture
The problem isn't really conviction- its having the WRONG conviction about something that's the problem
Stand firm on your Bible based God honoring convictions! Stick with them!
1 Corinthians 16:13 Watch, stand fast in the faith, be brave, be strong.
John had discretion
Now in this day and age- someone who had been put in a position like John the Baptist would probably start a talk show, write a book, and trademark their name-
John the Baptist "the one who prepared the way"- NO he realized it wasn't about HIM
We live in a culture where if you don't have a million followers or your own reality show you're led to believe that you just don't matter that much
John the Baptist was different
Mark 1:7 And he preached, saying, "There comes One after me who is mightier than I, whose sandal strap I am not worthy to stoop down and loose
John knew where his place was in the pecking order- I'm not even worthy enough to untie his sandal
Now I'm not saying that we should think less of ourselves, but I think we should think of ourselves less
My generation is the first "self-esteem" generation- raised on feelings
But it appears as if the experiment has failed. The world seems to be angrier and more self-centered than ever
John the Baptist is the antithesis to this- He elevated Jesus above himself
He saw his life as an opportunity to lift Jesus up, not lift himself up-
To bring honor the the name of Jesus- not the name of John
I get it- I've often day dreamed about being a famous pastor- you know- writing books, being invited to speak all the time.
When I was in college- Reading about African pastor- at our churches we have pics of Jesus
Truth is- the bulk of us don't matter much- most of us will not be remembered much after our death
What does it mean to you?
Its not about you! Its about JESUS- Your life- should be insignificant- your life should be about JESUS
Live. Preach the gospel. Be forgotten.
Matthew 23:12 And whoever exalts himself will be humbled, and he who humbles himself will be exalted.
2 Corinthians 11:30 If I must boast, I will boast in the things which concern my infirmity.