Podcast: Play in new window | Download
Subscribe: Google Podcasts | Email | RSS | More
My Bro Jesus
• Today we celebrate the resurrection of Jesus Christ of Nazareth
• When he came back from the dead it proclaimed to the world that he was God in the Flesh and indeed had the power to forgive the sins of Men
• People who are Christians now put their faith in Jesus and believe that they will have eternal life by believing in him
• But that wasn't always the case for Jesus- he had many disbelievers in his life-
• One of his greatest disbelievers was his natural born brother.
• Can you imagine what it must have been like being the brother of Jesus?
• The Bible says that Jesus lived a sinless life- Think about the stuff that Jesus mother could have said to James- "why can't you be like your brother" "James, we both know who did this"
• Think of how it was for James- always second place. Jesus got first place in everything. Always varsity. Always doing things perfectly.
• James Mother was Mary and Joseph was his father- He was technically Jesus half brother. (Matt 13:55)
• John 7:5 For even His brothers did not believe in Him.
• Here's Jesus- sent from heaven above, doing his ministry and even his brothers don't believe in him
• These are his brothers they are the ones who have seen him grow up, seen him be the person that he has been and they look at his life and say "you're not the one"
1. You are who God says that you are- not who others say you are
• Here's the truth- Jesus is the savior of Mankind- Jesus IS the chosen one that provides forgiveness from Sin and life everlasting
• Just because his brothers said he wasn't doesn't mean that he wasn't. HE WAS the ONE
• Why? Because GOD SAID THAT HE WAS- whoever God says you are YOU ARE
• The Bible is very Clear that Jesus was GOD- He is worshiped (Matt. 2:2, 11; 14:33) He was called God (John 20:28; Heb. 1:8) He was called Son of God (Mark 1:1) He is prayed to (Acts 7:59) He is sinless (1 Pet. 2:22; Heb. 4:15) He knows all things (John 21:17)He gives eternal life (John 10:28) All the fullness of deity dwells in Him (Col. 2:9)
• Think about this- At the point at which his blood brothers were denying his deity- Jesus had already performed a bunch of miracles
• He had healed a man at a pool who couldn't walk. He did the miracle of the loaves and fishes, where food was miraculously multiplied to feed 5000 people. He had even walked on water at this point
• His brother James? I'm not really feeling it. He doesn't seem like the savior we've been waiting for-
• Now Jesus was sinless, but my nature I'd be like "HEY MAN- WHAT MORE DO I HAVE TO DO?"
• Miracles, miracles, miracles, and I'm still not good enough- I'm sure he didn't that's why he is the savior and not me. I know what its like to have someone not believe in me. But I'm not GOD
• What does it mean to you?
• You are who God says that you are not who you think you are or what others say that you are
• I used to think I was a pretty Good guy. I used to tell myself that. It made me feel good to maximize the little good stuff I did and minimize the bad stuff I did.
• This is America- we maximize what others do and minimize what others do
• United Airlines had a pretty bad week. But how many people did you destroy with your thoughts and tongue this week? What if your thoughts were a meme? Who would ride your airline?
• What I told myself about myself didn't change what God said about who I was.
• It didn't even matter what others said about me- Its not that hard to hold it together for a few hours
• There's 2 types of people in this room- people that are enemies of God and people that are friends of God
• Who are the enemies of God? People who don't walk according to the scriptures Phil 3:18
• Romans 5: 8 But God demonstrates His own love toward us, in that while we were still sinners, Christ died for us.
• Romans 2:5 But in accordance with your hardness and your impenitent heart you are treasuring up for yourself wrath in the day of wrath and revelation of the righteous judgment of God, 6 who "will render to each one according to his deeds"
• What? I got up on a Sunday to hear you tell me that I'm an enemy of God and that his wrath rests on me? Yup.
• He's the truth of what the Bible says- If you are sitting here this morning and you don't believe in Jesus and you haven't placed your faith in Jesus to forgive you of your sins and get you to heaven- you're God's enemy
• James- the Brother of Jesus was his sworn enemy and he didn't even know it. I'm figuring if there was even a CHANCE a 'shoo in' a loophole anywhere in the ticket to heaven, its Got to be the Brother of Jesus- Heck even Bill Clinton was able to commute the sentence of his brother.
• Nope Romans 3:23 for all have sinned and fall short of the glory of God,
• ALL that includes James the brother of Jesus- Being the Brother of Jesus isn't enough to get you into heaven. – we want to believe that everyone gets to heaven- regardless of belief- not BIBLEView image on Twitter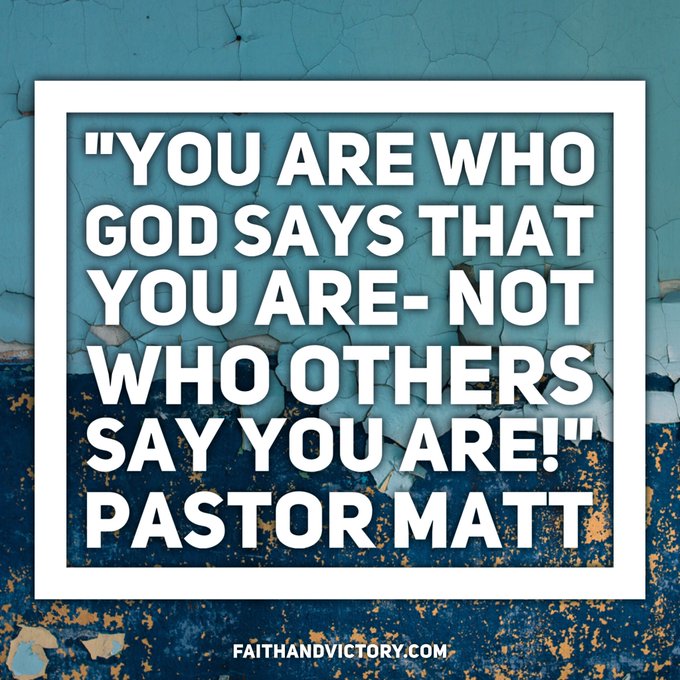 • So what happened to James? What was the trajectory of his life?
• Well, lets take a step back here- lets not forget why we're here today
• Here's what we're here celebrating today- The resurrection of Jesus
• What does that mean exactly? Here's the quick version- Jesus of Nazareth came to earth and was born of a virgin, lived a sinless life and was crucified because he claimed to be God
• When the Romans crucified him, they didn't even realize that they were playing out the plan of God by crucifying Jesus. Jesus death and his blood paid the penalty for our sin.
• 1 cor 15:3 For I delivered to you first of all that which I also received: that Christ died for our sins according to the Scriptures, 4 and that He was buried, and that He rose again the third day according to the Scriptures,
• Hebrews 9 14 how much more shall the blood of Christ, who through the eternal Spirit offered Himself without spot to God, cleanse your conscience from dead works to serve the living God? 15 And for this reason He is the Mediator of the new covenant, by means of death, for the redemption of the transgressions under the first covenant, that those who are called may receive the promise of the eternal inheritance.
• The act of Christ dying on the cross and his subsequent resurrection proved that he was God and that his blood had the power to forgive the sins of humanity
• 1 John 2:2 And He Himself is the propitiation for our sins, and not for ours only but also for the whole world.
• The message of the Gospel is that Christ died for all.View image on Twitter
• 1 Timothy 2:5-6 For there is one God and one Mediator between God and men, the Man Christ Jesus, 6 who gave Himself a ransom for all, to be testified in due time,
• They took James brother, Jesus and crucified him on a cross, put him in a tomb, posted a guard, and expected that would be the end of the story of this rascal from Galilee
• I wonder what went through James mind that weekend. Seeing his brother Crucified.
• He didn't believe him to be the Savior. He wasn't buying it. I wonder what he thought
• BUT Read Matthew 28:1-8
• Here's what happened in the life of James- he was one of the earliest witnesses of this day after he Died
• 1 Corinthians 15: 5 and that He was seen by Cephas, then by the twelve. 6 After that He was seen by over five hundred brethren at once, of whom the greater part remain to the present, but some have fallen asleep. 7 After that He was seen by James, then by all the apostles.
• James life drastically changed after that
• Acts 1 says that James was in the upper room praying after Jesus resurrection and when he got taken up to heaven
• James becomes close with Peter and with Paul
• The early church had a Council and James is the Chairman (Acts 15)
• Galatians 2:9 called James a pillar of the church.
• One of the biggest accomplishments of James life is that he wrote the Book of James
• James was a great book- and you know what his open to the book was?
• James 1:1 James, a bondservant of God and of the Lord Jesus Christ,
• James never used his status as the Brother of Jesus to get himself some sort of special treatment or status.
• He considered himself a slave of Jesus and considered Jesus Lord and Savior
• Did you catch that? James considered his brother his savior and his master?
• How do you go from skeptic to servant? He witnessed the resurrection of his brother. He saw him die and he saw him alive and it CHANGED him.
• When he saw the resurrected Savior, it was then that he determined that Jesus WAS Lord and he WAS Savior and that he SHOULD live for him!
• He realized that Jesus was who he said he was and that his life WAS the price for our sin
Let me Go back a bit-
• God does say that everyone is born into sin.
• Psalm 51:5 Behold, I was brought forth in iniquity, And in sin my mother conceived me.
• Romans 5:12 Therefore, just as through one man sin entered the world, and death through sin, and thus death spread to all men, because all sinned—
• And maybe in your life understanding sin isn't that bad- you've seen it all and done it all but here's the Good news- You don't have to stay there- the promise of the resurrection is that we can be free from our past mistakes and sins
• You may have had other people in your life that called you names or put you down or spoke negatively about you- but that's not where God wants you to be.
• If you are willing to come to Jesus and Believe God says-
• You are loved enough to die for John 3:16
• Romans 5:8 But God demonstrates His own love toward us, in that while we were still sinners, Christ died for us.
• Although we WERE sinners Christ STILL Died for us- God looked down on humanity and said "they are worth it" And IF you come to Jesus and Give your life to Him- The wrath of God is SATISFIED- as if you have never sinned!
• God says you are CHOSEN 1 Peter 2:9 But you are a chosen generation, a royal priesthood, a holy nation, His own special people, that you may proclaim the praises of Him who called you out of darkness into His marvelous light;
• God says you are his CHILDREN 1 John 3:1 Behold what manner of love the Father has bestowed on us, that we should be called children of God!
• God says you are his FRIEND. John 15:15 No longer do I call you servants, for a servant does not know what his master is doing; but I have called you friends, for all things that I heard from My Father I have made known to you.
• 2 Corinthians 5:17 Therefore, if anyone is in Christ, he is a new creation; old things have passed away; behold, all things have become new.
• Would you make that declaration today?
• Would you, like James, after seeing the power of the resurrection, swallow your pride and admit the truth of the Conviciton?
• That Jesus Christ IS Lord. That he IS the Savior that he IS the chosen one of Israel?
• Repent, and believe!