Resurrection power
I'd like to welcome you here today- My name is Matt. I'm the senior Pastor of this church
Easter to me always feels like a first date in college- I really like you, and I want you to like me, and I hope we get a second date.
Here's the bottom line up front- We want you to know Jesus. We want you to Make FVC your home
Keep showing up. Go to membership class. Go to events. Get hooked up on FB- Volunteer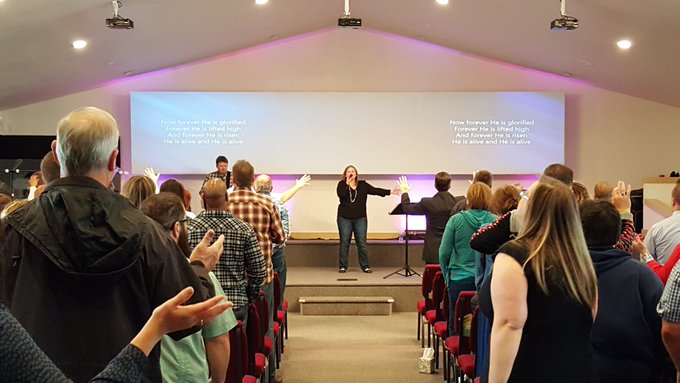 Easter is the day that we come together and celebrate that Jesus of Nazareth rose from the dead.
this has huge implications in our life- It proves That Jesus was God, that he does have the power to forgive sin and he does have the power to grant eternal life
Being a Christian means that you believe that Jesus can forgive you from your sin, and you willfully turn towards Jesus in your mind and begin to live for him
Its an all encompassing endeavor. Following Jesus isn't just showing up to a service once a year and expecting that you've satisfied the requirements of God
If you have truly turned towards God in faith, then your life will reflect it
I liken it to if you flew to the other side of the country, married someone and flew back and never spoke to them again. What happened there? You made a one time commitment, but your life has shown that you weren't really committed to it in the first place.
Today- I want you know Philippians 3:10 that I may know Him and the power of His resurrection, and the fellowship of His sufferings, being conformed to His death,
You need to know that power. You need to live in that power. It s a power that is for YOU for TODAY
We don't just memorialize a dead man today- we worship the GOD that is ALIVE
Look at this story from Acts 3 Acts 3:11-19
These two guys Peter and John- who has seen the resurrected Christ- are at the Temple and they see a man who is lame- As they are there- they come upon this man and simply by speaking the name of Jesus, this man is HEALED- It was miraculous- Immediately this guy's legs start working!
There's an ensuing discussion and I want to share with you the story that happens- I want you to see what happens when people really experience the resurrection power of Jesus- and how God wants to do that for you TODAY –
The power of the resurrection
Acts 3:11 Now as the lame man who was healed held on to Peter and John, all the people ran together to them in the porch which is called Solomon's, greatly amazed. 12 So when Peter saw it, he responded to the people: "Men of Israel, why do you marvel at this?
After this man was healed, the people that had seen him healed were AMAZED at what had happened
It says in 9 And all the people saw him walking and praising God. 10 Then they knew that it was he who sat begging alms at the Beautiful Gate of the temple; and they were filled with wonder and amazement at what had happened to him.
"filled with wonder and amazement" Is what happened when these people saw the POWER of the resurrection upon this mans life
Because of Jesus resurrection, John and Peter had the POWER of the risen Christ upon THEM and they were able to minister healing to this guy-
In your life- when's the last time you Marveled at something? Whens the last time you were amazed? We're a culture that WORSHIPS sports stars- Catches, passes, "Unbelievable"
I will tell you this- in my life- the people I have seen set free, healed, free from addiction, marriages restored, babies born, lives changed- I MARVEL at what God can do!
Crystal and her mom– Mom delivered from Alcohol- Like she was in a wheel chair and started walking
John 14:12 "Most assuredly, I say to you, he who believes in Me, the works that I do he will do also; and greater works than these he will do, because I go to My Father.
The truth is- BEFORE Jesus was resurrected- they STILL Found him amazing-
Matthew 22:33And when the multitudes heard this, they were astonished at His teaching.
The problem with Today is that we live in a CGI seeing, skeptical non believing world
God can do a miracle in front of you and You'd find some way to discount it- but its REAL
Ressurection power is power to MARVEL!
Power to Heal
Acts 3: 6 Then Peter said, "Silver and gold I do not have, but what I do have I give you: In the name of Jesus Christ of Nazareth, rise up and walk." 7 And he took him by the right hand and lifted himup, and immediately his feet and ankle bones received strength.
That's the healing power of the resurrection- the power to speak to sickness and see it healed
The healing power of Jesus name is a name that has POWER and its because of this power of Jesus that he was raised from the dead- and TODAY people can STILL Be healed!
John 14:13 3 And whatever you ask in My name, that I will do, that the Father may be glorified in the Son.
Brother Dave– Surgery- Doc said 'It didn't work" we prayed- God healed him!
We serve a God that wants to heal his people! Sure, does it happen all the time? No- but it does happen
Isaiah 53:5 But He was wounded for our transgressions He was bruised for our iniquities; The chastisement for our peace was upon Him, And by His stripes we are healed.
God wants to heal you today! Physical, emotional, relational, Spiritual
I have seen God do in one moment that a counselor couldn't do in 5 years
I've seen God fix in a moment what no doctor could fix- HEALING POWER from the RESSURECTION
The power of the resurrection was that Jesus conquering death gave the POWER to the DISCIPLES to go out and HEAL the sick and raise the dead!
Luke 9:1 Then He called His twelve disciples together and gave them power and authority over all demons, and to cure diseases.
If you need a healing today- call upon the name of Jesus to heal you! Watch what he will do!
If you listen to this story- you'll see that Peter had no problem preaching the truth of the gospel
Telling the truth Hard- My dad used to say– tell the truth- don't have to remember what you said
Truth- Jesus is the only true God- from Abraham, Isaac, and Jacob
Truth- The people killed Jesus- but God raised Jesus from the dead, and people saw it
Truth- The name of Jesus is a name above all names by which we can be saved and set free
Truth- Jesus is perfect in all of his way
Truth- Jesus is the fulfillment of the OT prophecies about a coming messiah
Truth- You need to repent that your sins may be blotted out
Truth- If you turn from your sin- you will experience refreshing of the Lord
When you drive around and you see churches growing and flourishing- be reminded- The power of the resurrection was that people went FORTH and preached TRUTH
Mark 16:15 And He said to them, "Go into all the world and preach the gospel to every creature.
2 Timothy 4:2 Preach the word! Be ready in season and out of season. Convince, rebuke, exhort, with all longsuffering and teaching.
This preaching was revolutionary at the time- it was challenging the status quo of the day-
Proclaiming Jesus as messiah is as controversial as claiming his return! You better be right!
This power still exists today to preach the truth in Love
In High School English class- Presenting a book- Reading favorite chapter- Almost passed out
This world is in desperate need of truth- a world that believes in relative truth Jesus is the absolute truth- We're BEGGING for Politicians to SAVE US- TO SET US FREE- To tell TRUTH- Not happening
You can have POWER to speak the truth in ANY situation and the LORD will help you!
Mark 13:11 But when they arrest you and deliver you up, do not worry beforehand, or premeditate what you will speak. But whatever is given you in that hour, speak that; for it is not you who speak, but the Holy Spirit.
Power to live
15 and killed the Prince of life, whom God raised from the dead, of which we are witnesses.
The Promise of Jesus from the resurrection is that we, who are in Christ, will be resurrected
People erroneously believe that its some sort of spiritual existence- but it is a literal bodily resurrection- We all want to live- Life is FUN-
Jesus didn't come back as a spirit- he came back as a man- in a resurrected body- as will we
John 5:28-29 Do not marvel at this; for the hour is coming in which all who are in the graves will hear His voice 29 and come forth—those who have done good, to the resurrection of life, and those who have done evil, to the resurrection of condemnation.
Notice- Everyone gets resurrected- some to life some to condemnation
John 6:39 This is the will of the Father who sent Me, that of all He has given Me I should lose nothing, but should raise it up at the last day.
The power of the resurrection is available for YOU today- to be able to live forever!
I enjoy being alive- and I look forward to spending the rest of eternity alive in Christ
But its not just a future living- it's a NOW living. When you are walking with Christ- you LIVE life
You find that you're in this world, but not of this world- you're merely just passing through
Living for Christ affects your life, your family, your health, your work, your finances, your mind,
If God raised Christ from the dead- he WILL raise you from the dead-
But even NOW he can raise things in your life that you thought were dead-
You NEED power to live this life- You can't do it on your own- (Lincoln, Jumpers, Power not of myself)
Power to Repent
19 Repent therefore and be converted,
The power of the resurrection is a power that can overcome and change any life
The promise of Jesus was fulfilled in Acts chapter 2 when the HS came at Pentecost
The power of the HS is the power to REPENT- that is- to TURN AWAY from SIN and TURN TOWARDS GOD
Here's where we're at- Many of you came to church today because that's what you do on Easter- but you don't really understand Easter or why we're here
God wants relationship with you- He wants you to know him and be in relationship with him
But the reality is- unless you turn from your sin and turn towards God- you can't know the God of the Bible
Luke 13:3 I tell you, no; but unless you repent you will all likewise perish.
Repentance isn't what forgives sin- the HS gives you power to repent TO the one who CAN save
People think repentance is works, or that its hard, its just a turning. From death to life
Acts 17:30 Truly, these times of ignorance God overlooked, but now commands all men everywhere to repent,
Its like this- Do you have stuff that you have done you wish you wouldn't have done?
That you could go back to that day and just jump over that day? Does it hurt your stomach when you think about it? That's why people turn to things like drugs, porn, eating etc.
2 cor 7:10 For godly sorrow produces repentance leading to salvation, not to be regretted; but the sorrow of the world produces death.
Here's the greatest Ressurection POWER
Power to forgive sin
18 that your sins may be blotted out, so that times of refreshing may come from the presence of the Lord
Proverbs 28:13 He who covers his sins will not prosper, But whoever confesses and forsakes them will have mercy.
God's plan of salvation is made complete in the person of Jesus- Jesus being resurrected- what we are celebrating here today- Is the PROOF of his ability to FORGIVE sin- Only GOD can do that
God doesn't want you to earn your way back, to make up for your past, to make amends
ALL he wants you to do is to RECEIVE that gift of salvation that he has for you-
Totally and complete forgiveness from sin- Right now- TODAY- Washed clean
This is the whole deal 2 Corinthians 5:21 For He made Him who knew no sin to be sin for us, that we might become the righteousness of God in Him.
Receive that Gift today- and watch what God does in your life.
That's Easter folks- God sent Jesus to forgive you of your sin- Receive that today and get eternal life-