The Anchor for Our Souls (Hebrews 6:18-19)
– Fire is predictable. (Wild fires in Canada)
– Fire will react under the same conditions, the same way, every single time. But, no one knows what those conditions will be.
– Structure fire VS Wildland fire. It's the difference between Lifeguarding at the pool, or at the ocean. A House is a box, but the Wild has no boarders.
– Wild Fires are unpredictable. They can sneak up on you. It's a dangerous place to be.
– You need to stay connected to a place of refuge. A way to escape from the chaos and danger that threatens to surround you.
– You need an anchor point.
– All firefighting operations MUST begin from an anchor point, a place connected to an area of refuge. A safe and trustworthy place where the fire cannot surround you. (A fire break, or large clearing.)
– In a house fire you need one too. It's not called that, but it is the same thing. (Your crew is connected to the hose, and the hose is connected to the fire engine. The hose, safe place in a building full of fire and chaos.) Never lose track of your area of refuge, and how to get there!
– Your life needs an anchor point too!
– Something that keeps you firmly connected to the area of refuge.
– When the chaos and fire of life tries to surround you, you need a place where your soul can rest easy.
*Hope is the anchor for our souls.View image on Twitter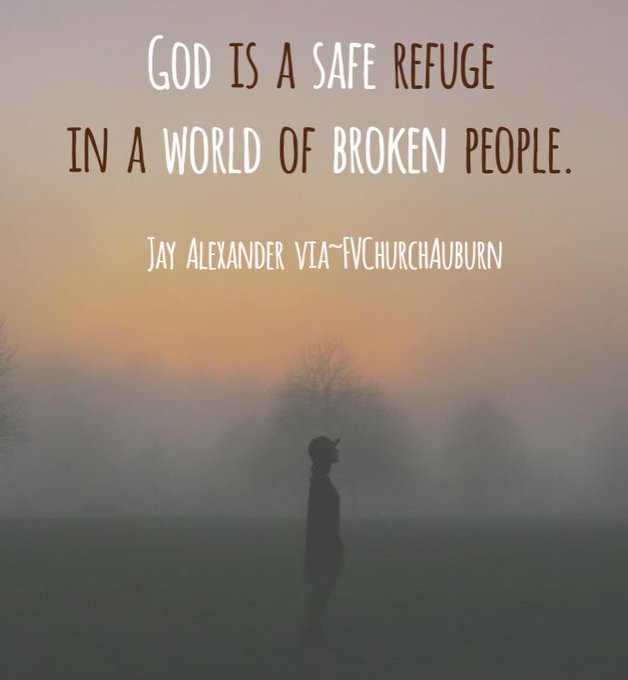 – Hebrews was written for people who were experiencing a difficult time because of their commitment as Christians.
– Life isn't easy, even when things seem to be going right. But hardship and struggles happen to everyone; the believer in Christ and those living for the world.
– These Christians need to practice patient endurance during these fiery and chaotic times.
– Verse 18, God has given us his promise and his oath…
– An oath is a vow or pledge concerning ones future actions. God has made promises to his children under oath.
– God has given his people many promises that we can find in the Bible. In his word.
– Psalms 9:9-10, The Lord is a shelter for the oppressed, a refuge in times of trouble. Those who know your name trust in you, for you, O Lord, do not abandon those who search for you.
– Proverbs 3:5-6, Trust in the Lord with all your heart; do not depend on your own understanding. Seek his will in all you do, and he will show you which path to take.
– 2 Chronicles 7:14, Then if my people who are called by my name will humble themselves and pray and seek my face and turn from their wicked ways, I will hear from heaven and will forgive their sins and restore their land.
– Example: The Maasai Village, and the drought. Lasted almost a year, many cows died. Herding nomadic people, devastated by this. Saw cow carcasses on the side of the road.
– We came to the village and brought food, and encouragement. 150 people got to take food home to their families. In the service, 8 women gave their lives to Jesus.
– What did the pastor say to them??? The simple gospel, God's promise, His provision. Their hearts were ready for change.
– Psalm 119:81, I am worn out waiting for your rescue, but I have put my hope in your word.
– God doesn't promise you a life without suffering. He Does promise to give you peace in the midst of it. His promise is to give refuge to those who would believe in him, and put their trust in him.
– These promises will not change because God is unchanging. We change. The world changes. "God is the same yesterday, today, and forever!"
– Hebrews 10:23, Let us hold tightly without wavering to the hope we affirm, for God can be trusted to keep his promise.
*We hold onto hope, the anchor that securely connects us to refuge in the Savior.
– "Hope is the strong trustworthy anchor for our souls."
– Hope leads us to the place of refuge. It connects us to the Father, and the Savior.
– Psalm 33:22, Let your unfailing love surround us, Lord, for our hope is in you alone.
– Example: Staying on your hose line.
– You bring a hose line in the front door of a house on fire. It's hot, smoked out, and chaotic.
– No matter what happens in there, you must stay oriented to that hose line, because it is your anchor, and connected to your area of refuge.
– Its heavy. Immovable. You can trust it with your life, IF you know how to follow it out!
– You have to train with it, and know it well. (Smooth, bumpy bumpy, PLUG! From 14 yrs ago)
– As the world goes dark, and fire tries to surround you, Know where your hope comes from!
– Our hope is in God's promises. It's a strong and trustworthy anchor for our souls!
– Verse 19, This "hope anchor" leads us through the curtain into God's inner sanctuary.
– In the temple, under the old covenant, there was a curtain that separated off the inner room, the holy of holies, from the rest of the temple. This is where God, himself, dwelt.
– Only the Priest could enter there once a year, to offer atonement for the sins of all people.
– A person could not be in the direct presence of God.
– Under the new covenant, Jesus Christ has made the eternal atonement for our sin, providing forgiveness through his blood shed on the cross.
– Our "hope anchor" leads us through the curtain now, into the direct presence of God.
– Verse 20 says, "Jesus has already gone in there for us." He is the high priest.
– Our hope is anchored in Jesus Christ himself. He is our safe refuge!
– If you are a believer in the Lord, Jesus Christ, This hope is a strong anchor for your soul.
– If you are not, you are lost in the fire, separated from the hose line.
– YOU DON'T HAVE TO BE!
– Jesus Christ came to save sinners. His death on the cross paid the price.
– The bible says that if you repent of your sins, and believe that Jesus is Lord, than you will be saved.
– Ephesians 2:8-9, God saved you by his grace when you believed. And you can't take credit for this; it is a gift from God. Salvation is not a reward for the good things we have done, so none of us can boast about it.
– You are saved by grace alone, through faith alone, in Christ alone!
– But a gift must be received!
– Today is the day of salvation!
– There is no better time, and no better place!
– Romans 15:13, I pray that God, the source of hope, will fill you completely with joy and peace because you trust in him. Then you will overflow with confident hope through the power of the Holy Spirit.
– prayer – – alter call –