The Circumspect Challenge
• If you're here this morning you want to grow in your relationship with Jesus. If you weren't , you wouldn't be here
• Living for God is hard. I deeply love Jesus, but its still a challenge at time. It seems like as soon as I am done working on some part of my life that needs attention, God adds something to the list
• I want to teach you a word this week- Circumspect careful to consider all circumstances and possible consequences
• Won-ton wild living is not the life of a Christian- we're supposed to be living a life that demonstrates Christ and shows
• Ephesians 5:15 See then that you walk circumspectly, not as fools but as wise,
• Definition- : careful to consider all circumstances and possible consequences : prudent
• If you're a member of this church- its part of our church covenant
1. Make Jesus the center of your life
• This right here is the entire essence of the Christian life- Nothing I want more than this
• Expert at scuba diving- that's what his life is about- You choose your, time, money, energy YOU
• Christ never intended to lead us to ourselves. Your life is not about finding your destiny, your calling, your inner peace, your purpose. Christianity is about losing yourself in Jesus
• If you really want to experience the best of God the fulfillment is found in dying to self, not finding self- Life isn't that exciting- if you don't have Jesus- it's a pretty boring existence
• Either you're looking at something, moving on something, eating something, building something, talking to someone, fixing something, that about all life is
• Galatians 2:20 I have been crucified with Christ; it is no longer I who live, but Christ lives in me; and the life which I now live in the flesh I live by faith in the Son of God, who loved me and gave Himself for me.
• There is no other answer for anything that you are struggling with or dealing with in your life
• If you have not died to yourself you will never experience the best that God has to offer
• This means that you don't have the right to your own feelings, your own plans, your own desires, your own wants, your own needs- This is not as the world thinks
• If you are struggling in any area of your life, it will always be reconnected to death to self
• If you haven't died to yourself, you cant truly live for Christ because there will always be an inner turmoil between the two that will constantly battle
• You want to be able to live out- Colossians 3:17 And whatever you do in word or deed, do all in the name of the Lord Jesus, giving thanks to God the Father through Him
• Proverbs 3:6 In all your ways acknowledge Him, And He shall direct[a] your paths.
• This is not a message that the world preaches- its not a message that warms the hearts of skeptics-
• Luke 9:23 Then He said to them all, "If anyone desires to come after Me, let him deny himself, and take up his cross daily, and follow Me.
• How do we die to self?
• Matthew 16:25 For whoever desires to save his life will lose it, but whoever loses his life for My sake will find it.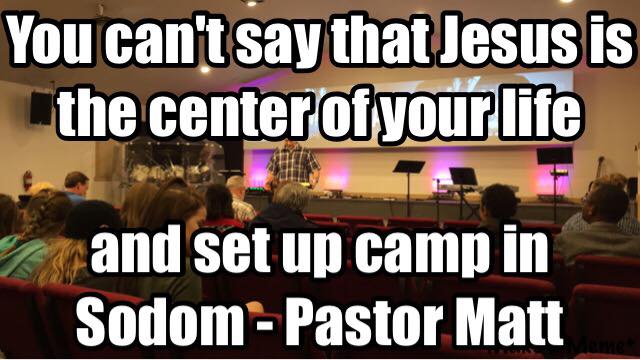 2. Desire God more than sin
• One of the most surprising things about being a Christian is that there are parts of me that still desire sinful things- its rather surprising- God has changed many of my desires-
• Sinful thoughts, actions, deeds, plans, desires. Its constant and pervasive. It's a daily battle
• we must come to a point where we desire the things of God more than the satisfaction of our flesh- Training for helicopter in water- ONE DESIRE- AIR! GET off these shackles
• Typically, we gravitate towards sin when we want to satisfy self- we haven't died to self
• Colossians 3:5 Therefore put to death your members which are on the earth: fornication, uncleanness, passion, evil desire, and covetousness, which is idolatry.
• Colossians 3:8 But now you yourselves are to put off all these: anger, wrath, malice, blasphemy, filthy language out of your mouth. 9 Do not lie to one another, since you have put off the old man with his deeds, 10 and have put on the new man who is renewed in knowledge according to the image of Him who created him,
• We must battle the sins in our life- we can't take them lightly
• Gal 5:19-21 READ
• You cant say that Jesus is the center of your life and set up camp in Sodom. You cant go where the world goes and do what the world does and have what the world has and say you desire Jesus more than anything
• I love the lost- but being in some loud dance club sipping on oil isn't leading anyone to Jesus
• Romans 6:23 For the wages of sin is death, but the gift of God is eternal life in Christ Jesus our Lord.
3. Die to yourself in the Tithe
• I can tell you the people that don't tithe- Selfish people. They care more about their own wants, needs and desires, more than they care about the things of God
• I have never met a loving, caring, submitted God honoring person who argues with God about the tithe To them it's a non-issue
• What I have met is lackluster misguided rebellious people who argue W god about everything
• 1 Corinthians 16:2 On the first day of the week let each one of you lay something aside, storing up as he may prosper, that there be no collections when I come.
• Typically people don't tithe because they want the money for themselves.
• After people pay their living expenses, they want money for fun stuff- or to get out of debt
• If you want to die to self- start putting God first in your finances- you'll die to self really fast
• Want more money? Get out of debt and get promoted. Learn to go without
• You don't need as much as you think you do- I have never borrowed money to pay a bill
• Tithing isn't about how much you make- its 10% for everyone. READ MALACHI 3:10
• THE CHURCH DOESN'T NEED YOUR MONEY- but you do- the people who usually have the worst money problems are the non-tithers-
• "I know other people pay their tithes so you can be available to us during the week, I don't agree with that, but I sure enjoy you being available to me"
• "I don't agree with the tithe, but I sure enjoy going to a church where other people tithe- its nice and warm here. I love the 2 ply toilet paper"
4. Die to yourself in serving
• Ephesians 6:7 with goodwill doing service, as to the Lord, and not to men,
• Here's the deal- I appreciate everything that everyone does around here for the Lord- and as possible- we thank and recognize who we can for what they do
• But if you're doing it for the Lord- you'll keep doing it with no hope for recognition or praise
• It actually does more for your dying to self when no one knows
• 2 Corinthians 5:9 Therefore we make it our aim, whether present or absent, to be well pleasing to Him.
• Matt 6:1-4 READ
• When you go and do good deeds for your fellow man- it kills the self
• Selfish people want recognition. Selfish people want praise. When you get nothing- it gets you
• There's many opportunities in and out of the church that you can serve others and get no recognition- but God PROMISES that he will openly bless you- in due season
• John 13:35 By this all will know that you are My disciples, if you have love for one another."
• Every relationship- family, friends,
• You cant die to yourself and serve others unless you change your attitude
• Ephesians 4:22 that you put off, concerning your former conduct, the old man which grows corrupt according to the deceitful lusts,
• There are some people who get saved and are still some of the most annoying angry people
• "but I've been hurt" ""You don't know what I've been through"
• Let me really hurt your feelings- no one cares about you- so spend your life caring about others
• Philippians 2:5 Let this mind be in you which was also in Christ Jesus,
5. Die to yourself by fasting
• Fasting is one of the fastest ways to die to self. You thought tithing was hard? Go 3 days without food and you'll pay any amount of money for a bowl of oatmeal
• Fasting is when you restrict your food intake to go into a time of prayer and communion with God- its SUPPOSED to be PAINFUL- the pain is what draws you into prayer and communion
• Matthew 6:18 so that you do not appear to men to be fasting, but to your Father who is in the secret place; and your Father who sees in secret will reward you openly.
• We're moving into a time of fasting- if you don't want to do it, it probably means you should
• 1 Corinthians 6:19-20 READ
• Top 3 reasons you should fast? 1. Jesus fasted 2. Deepens your connection with God 3. Grows your self control 4. Teaches you appreciation 5. Grows you
• 2 Peter 1:6 and knowledge with self-control, and self-control with steadfastness, and steadfastness with godliness.
• Here's the truth- America is a gluttonous nation. Gluttony is a sin- lack of self control is a sin- fasting can break you of this
• Proverbs 23:20–21 Be not among drunkards or among gluttonous eaters of meat, for the drunkard and the glutton will come to poverty, and slumber will clothe them with rags. Proverbs 23:2 and put a knife to your throat if you are given to appetite.
• Proverbs 25:16 If you have found honey, eat only enough for you, lest you have your fill of it and vomit it.
• Philippians 4:5 Let your moderation be known unto all men. The Lord is at hand.