The Book of Judges gives us the history of Israel during the time of the government of the Judges, who were occasionally needed as deliverers. They were raised up by God to administer justice for the people, reform the religious practices, and especially to rescue Israel from their oppressors. Sounds like something we need today in America. The people were not as prosperous or religious as we might expect at this time, yet there were still many believers among them, & service to the tabernacle was still going on.
In Judges 2:1-4, the Angel of the Lord, who at times is described as the Lord Himself & at other times as one sent from God, informed Israel just before Joshua's death of the consequence of their disobedience.Judges 6:1-2 Their sin caused them to lose heart, and the affect of their guilty conscience was to hide in dens and caves, where many people live today mentally & emotionally. A prophet would precede the deliverer.
Midianite Oppression & Gideon's CommissionJudges 6:7-16 "Where sin does abound, grace does much more abound."Gideon was part of a clan of the tribe of Manassah, descendants of Joseph. To secure the wheat harvest from Midianite marauders, Gideon hid it. This speaks to me about how Christians can tend to hide their gifts when God wants to use us to bring freedom & victory to others. Gideon is unaware of the unseen Guest Who is about to change his life forever. God is watching! Seeing Ourselves As God Sees UsV. 11 Gideon had a brave & active spirit, but was weak in faith.V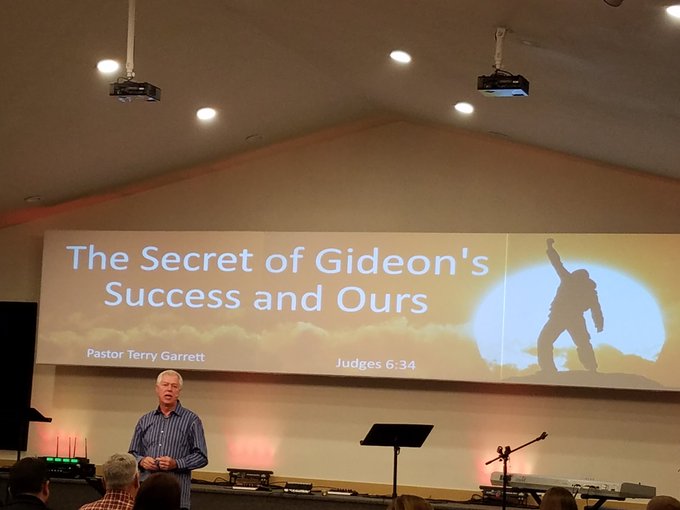 V. 12 Through the Lord's enabling power,Gideon had unknown potential to be a mighty deliverer. Bishop Hall – "While God calls Gideon valiant, the Lord makes him so. God delights to advance the humble. "The Lord is with you" (Matt. 1:23) assures Gideon that God has not abandoned His people.V. 13 Gideon can only see the present circumstances, which have over-shadowed his faith.
To do the impossible, we must see the invisible! At this point, Gideon only has objections: "Why has all this happened to us? And where are all His miracles which our fathers told us about? Did not the Lord bring us up from Egypt?" Surely we have been forsaken & delivered into our enemy's hands! Gideon is only seeing as man sees, & so will we until we encounter God at the level of His calling on our lives!Page 2,"The Secret of Gideon's Success & Ours", May 11, 2016 V. 14 "The Lord turned to him" The Angel of the Lord is now speaking to Gideon as the Lord Himself, and Gideon is commissioned to be the deliverer of His people Israel. I believe that the Lord is revealing Himself in a special way to His people at this time, revealing the glory of His holiness & power. V. 15 Gideon is still in process of changing his core thinking from one of being neglected & oppressed to one of being a God-called, mighty deliverer.
Vv. 21-24 Gideon wanted to feed the one sent by the Lord. But when fire comes up from the rock, it is Jesus, served & honored by sacrifice. Gideon fears for his life, but a face-to-face encounter (v. 22) changes Gideon from a man of fear to a man of peace (fruit of the Spirit for us). "Yahweh Shalom" means that Gideon has a new sense of security in his relationship w/the Lord. It expresses itself in Shalom, meaning security, wholeness, peace, prosperity, well-being & friendship. TonightGod is releasing this reality! Vv. 25-27 After being told to first "tear down the altar of Baal that your father has, and cut down the wooden image (Asherah, a Canaanite goddess), God tells Gideon to (v. 26) "build an altar to the Lord your God on top of this rock" (lit., stronghold). The Apostle Paul told the Corinthian church to do this in 2 Cor. 10:3-6. "Once our obedience is complete, then we are able to call those things into *obedience." We have to deal with our own rebellion to God if we expect our own children to obey us. *Obedience signifies attentive hearing, to listen with compliant submission, assent & agreement." This season in Christ is characterized by a greater sense of hearing from the Lord & then doing what He says; idols be damned.
The Secret of Gideon's Success & OursVv. 33-35 "The Spirit of the Lord cam upon Gideon". SFLB note: "In Hebrew, this literally says, "The Spirit of the Lord clothed Himself with Gideon,'" which means, "He took possession of Gideon." "The Holy Spirit empowered this divinely appointed leader and acted through him to accomplish the Lord's saving act on behalf of His people. The same H.S. who enabled [this] deliverer to do exploits and fulfill the Lord's plans and
Page 3,"The Secret of Gideon's Success & Ours", May 11, 2016 purposes is at work today. He desires to move upon His people so that they too can do impossible things. The Lord wants to bring deliverance to His people, and He is looking for consecrated men and women whom He can empower with His Holy Spirit." Consecrated means "set apart for holy use."Luke 24:49 "Behold, I sent the Promise of My Father upon you; but tarry in the city of Jerusalem until you are endued with power form on high."Acts 1:8 "But you shall receive power when the Holy Spirit has come upon you; and you shall be witness to Me in Jerusalem, and in all Judea and Samaria, and to the end of the earth."Acts 2 The rest is history!