14 Now after John was put in prison, Jesus came to Galilee, preaching the gospel of the kingdom[e] of God, 15 and saying, "The time is fulfilled, and the kingdom of God is at hand. Repent, and believe in the gospel."
Understanding the Gospel isn't easy sometimes because everyone's interpretation is always different.
Jesus comes out of his baptism, out of the wilderness- and BOOM he comes out to preach the kingdom of God, that it has arrived, and that people should repent and believe in the gospel
3 things-
1. The Kingdom of God is at hand
To understand the Kingdom is to understand the wholeness and completeness of what Jesus came to do and establish
I would liken it to the Declaration of Independence and the original Constitution. It establishes
When Jesus says "The time is fulfilled, the kingdom of God is at hand" he is saying, That which has been prophesied and spoken of since Adam is happening right now
The Establishment of the redemptive reign of the Savior and the establishment of his kingdom is upon you right NOW
Now- understand this- There is a right NOW kingdom- a kingdom of Christ's rule in our lives that presses into us and through us- You- The believer- YOU are in the Kingdom!
The fulfillment of Daniel 2:44 And in the days of these kings the God of heaven will set up a kingdom which shall never be destroyed; and the kingdom shall not be left to other people; it shall break in pieces and consume all these kingdoms, and it shall stand forever.
Luke 17:21 nor will they say, 'See here!' or 'See there!' For indeed, the kingdom of God is within you."
Luke 22:29 And I bestow upon you a kingdom, just as My Father bestowed one upon Me,
Matthew 12:28 But if I cast out demons by the Spirit of God, surely the kingdom of God has come upon you.
When we are used by God- RIGHT NOW- we are operating in the kingdom- establishing the kingdom- announcing the kingdom- a righteous reign of God that is for NOW- preaching, healing, converting
Romans 14:17 for the kingdom of God is not eating and drinking, but righteousness and peace and joy in the Holy Spirit.
BUT- it is a FUTURE Kingdom as well- "on earth as it is in Heaven" that will establish God's eternal Rule over EVERYTHING and EVERYONE- FOREVER where we will live for ETERNITY
John 18:36Jesus answered, "My kingdom is not of this world. If My kingdom were of this world, My servants would fight, so that I should not be delivered to the Jews; but now My kingdom is not from here."
Revelation 11:1 Then the seventh angel sounded: And there were loud voices in heaven, saying, "The kingdoms of this world have become the kingdoms of our Lord and of His Christ, and He shall reign forever and ever!"
This kingdom is ONLY for the Righteous in Christ- it is NOT for everyone- You make get some spillover
People here cannot live in the kingdom if they are not ruled by Christ- nor will they inherit the kingdom upon death if they are not ruled by Christ- Kingdom living is for Kingdom subjects- You can visit
1 Cor 6:9-11 Do you not know that the unrighteous will not inherit the kingdom of God? Do not be deceived. Neither fornicators, nor idolaters, nor adulterers, nor homosexuals, nor sodomites, 10 nor thieves, nor covetous, nor drunkards, nor revilers, nor extortioners will inherit the kingdom of God. 11 And such were some of you. But you were washed, but you were sanctified, but you were justified in the name of the Lord Jesus and by the Spirit of our God.
Here's what Jesus Did and why KINGDOM is so important in the believers life
Started the kingdom- Israel waited- culmination of years and years of waiting for their king! Mark 1:15
Established Kingship- Jesus is the ruler and a citizen of his Fathers heavenly kingdom (coronation)
Proclaimed purpose- To proclaim the kingdom! It has arrived! Luke 4:43 ( You should proclaim)
Invited into/Declared the kingdom– Jesus used parables and preaching to invite people into the kingdom- this was GOOD NEWS that was to be shared and offered to all who would listen (you invite)
Demonstration of the kingdom- Miracles, works, power, Authority over Satan (you should demonstrate)
Spread of the kingdom– disciples as ambassadors of the kingdom- as agents and officers of the great commission- Giving them authority to establish the kingdom! (You are an ambassador of the kingdom)
Transformation of the kingdom- Israel wanted a political king- Jesus changed it- We're going to establish the kingdom through righteousness, peace, love, power, taking down Satan- not through political or militaristic force. (we help usher in the final kingdom of God as we prepare his church for his return)
Purchase of the kingdom- Death, burial and resurrection PAID for the kingdom. God's wrath satisfied- All believers Justified- Overcoming death, sin, the flesh, the Devil and the world. (This holy war death to sin)
Jesus leaves the disciples the kingdom power- In Acts 6- they want the kingdom restored- and Jesus says- I'll do you one better- I'll give you the Holy Ghost- Righteousness and peace will be yours
Jesus returns to establish the eternal kingdom- A triumphant Ruler king! King of Kings and Lord of Lords- The eternal reign that started when he was born.
This is CENTRAL to Jesus ministry- we must EMBRACE it and FIGHT for it- and PROCLAIM IT
Repent
This is a word that doesn't get much play in the Christian world nowadays-
Christians don't understand repentance and many have never had an experience of actually repenting.
Repent- metanoeō to think differently , that is, reconsider (morally to feel compunction): – repent.
Matthew Henry-By repentance we must lament and forsake our sins, and by faith we must receive the forgiveness of them.
Repentance is a change of heart- the reality that our sins have separated us from God- and we are no longer living as he desires- When one 'repents' according to the bible- they have a 'mind change' in regards to sin- their mind turns from sin- and turns towards God
Sin offends G0d- its putrid in his nostrils and a destruction to our souls
Sin keeps people from relationship with God and keeps them out of heaven
Changing our lives does not give God any glory- we cannot "fix" ourselves or live in such a way to satisfy his wrath. It is only from turning from our sin and appropriating the forgiveness of Christ that we can be fully forgiven of our sin
Faith with out repentance is belief in forgiveness without turning towards it- You must turn towards forgiveness for if not, you are still an inward focused reprobate
Christ joined repentance and belief- Not man- You cannot separate the two
They assist and work in concert with eachother- repenting is believing as believing is repenting.
You must believe that you are a lost sinner in need of a savior and then turn towards the one who saves and begin to love HIM and NOT love your sin!
Henry- the sincerity of both together must be evidenced by a diligent conscientious obedience to all God's commandments. Thus the preaching of the gospel began, and thus it continues; still the call is, Repent, and believe, and live a life of repentance and a life of faith.
Repentance is a major theme in New Testament teachings
Matthew 9:13b For I did not come to call the righteous, but sinners, to repentance.
Luke 13:3 I tell you, no; but unless you repent you will all likewise perish.
Luke 24:47 and that repentance and remission of sins should be preached in His name to all nations, beginning at Jerusalem.
John the Baptist preached repentance, Peter taught that repentance and conversion were necessary for salvation, Acts 5:31 Said that Jesus came to grant repentance to Israel, 2 pet 3:9 Says that God wants everyone to come to repentance
John 10:27 27 My sheep hear My voice, and I know them, and they follow Me.
Acts 26:20 but declared first to those in Damascus and in Jerusalem, and throughout all the region of Judea, and then to the Gentiles, that they should repent, turn to God, and do works befitting repentance.
True faith always involves repentance and true repentance always involves faith.
Its not just admitting sin, or embarrassment, but to turn from it and forsake it all!
God's supreme law is the law of Love- that is- to love God above all else- including your sin!
Sin says- God does not rule me- I rule me- I govern myself- I am my own Lord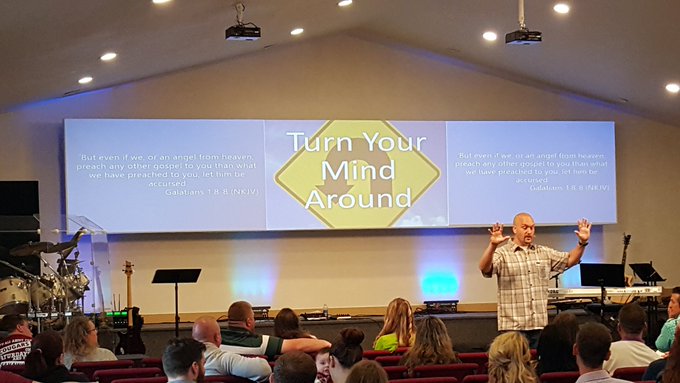 Marriage is a great picture- You can say vows but never turn your heart towards your spouse
Repentance says- I love God- I want him to rule me- I want him to be my Lord
You cannot truly believe the Good News that Christ saves Sinners unless you realize that the Love of God is greater than your love of Sin- it is a choosing one from the other
Repentance is a full surrender of the will- a full submission in Faith of Christ's supremecy and efficacy to absolve of all sin and renew the sinners heart towards God
There cannot be a turning to, without a turning away from
The core value of sin is selfish living- Living unto self and not unto God- If someone has tried to appropriate the forgiveness of their sin, without fully submitting their self to God, can you truly be saved? Its not just repenting of what we have done, but repenting of who we are- a choosing to live a life surrendered to him
Charles Spurgeon – Evangelical repentance is repentance of sin as sin: not of this sin nor of that, but of the whole mass. We repent of the sin of our nature as well as the sin of our practice. We bemoan sin within us and without us. We repent of sin itself as being an insult to God. Anything short of this is a mere surface repentance, and not a repentance which reaches to the bottom of the mischief.
pisteuō pist-yoo'-o to have faith that is, credit; by implication to entrust (especially ones spiritual well being to Christ): – believe (-r), commit (to trust), put in trust with. Believe
There is much confusion about what "the Gospel" is- You go to many churches and talk to many pastors and you'll get many answers- The truth is that there is such a thing as a false gospel
Galatians 1:8 8 But even if we, or an angel from heaven, preach any other gospel to you than what we have preached to you, let him be accursed.
I want to share some of these with you- (borrowed from Trevin Wax)
Therapeutic Gospel: Sin robs us of our sense of fullness. Christ's death proves our worth as humans and gives us power to reach our potential. The church helps us find happiness.
Formalist Gospel: Sin is failing to keep church rules and regulations. Christ's death gives me an agenda, so I can begin to follow the pre-described forms of Christianity.
Moralist Gospel: our big problem is sins (plural) and not sin (nature). The purpose for Christ's death is to give us a 2nd chance and make us better people. Redemption comes through the exercise of willpower with God's help.
Judgmentless Gospel: God's forgiveness does not need to come through the sacrifice of His Son. Judgment is more about God's goodness, not the need for human rebellion to be punished. Evangelism is not urgent.
Social-Club Gospel: Salvation is all about finding fellowship and friendship at church. The gospel is reduced to Christian relationships that help us enjoy life.
Activist Gospel: The kingdom is advanced through our efforts to build a just society. The gospel's power is demonstrated through cultural transformation, and the church is united around political causes and social projects.
Churchless Gospel: The focus of salvation is primarily on the individual, in a way that makes the community of faith peripheral to God's purposes. The church is viewed as an option to personal spirituality, or even an obstacle to Christlikeness. (I don't go to church- too many hypocrites)
Mystic Gospel: Salvation comes through an emotional experience with God. The church is there to help me feel close to God by helping me along in my pursuit of mystical union. (feely tingleys)
Quietist Gospel: Salvation is about spiritual things, not secular matters. Christianity is only about individual life change and is not concerned with society and politics
Paul clearly wanted the true gospel to be preached
The true Gospel of God tells you that you will take up the cross of Christ and say goodbye to your friends and the world, for you are not coming back the same person.
Galatians 6:14 But God forbid that I should boast except in the cross of our Lord Jesus Christ, by whom the world has been crucified to me, and I to the world.
The GOOD NEWS of the GOSPEL is simple- Jesus Christ came to save sinners- To Grant unto us eternal life-
1 Cor 15:19 19 If in this life only we have hope in Christ, we are of all men the most pitiable.
Christ died for our sins, was buried and rose on the third day- Jesus did all the work of the Gospel
The true Gospel is actually 3 things that work in concert with one another-
The grand narrative of Scripture (Creation, Fall, Redemption, Restoration
The Gospel Announcement about Jesus Christ ((His perfect life, substitutionary death, resurrection, exaltation).
The Gospel Community- which is the living example of the Gospel and the manifestation of his kingdom
First- Delivered from condemnation of sin, penalty of the law, and the wrath of God, in justification.
second, by the power of the true Gospel of the grace of God in Christ Jesus, in salvation there is deliverance from the power of Satan.
Third, in salvation by the power of the Gospel the sinner is delivered from the power of sin.
And fourth, the Gospel by its power gives us a new heart and a new nature so we can now serve God and walk in a way we never walked before-in a way of righteousness free from sin! Living out the Story, proclaiming Christ and expanding the kingdom through community and evangelism