What does it say
Basically- Jesus is saying- you guys are the lamp- and the purpose of a lamp is to spread light. When you bring light into the equation- its always shines. You can't stop it. Such it is with the truth I've taught you- its going to come out. Here's the deal though- Listen to what I say! And remember it! If you use what I have given you a lot- I'm going to give you even more. But if you don't? I'll take it away- because what good is it if you're not using it?
If you don't want to lose it-
Live your assignment
A lamp under a basket it worthless21 Also He said to them,"Is a lamp brought to be put under a basket or under a bed? Is it not to be set on a lampstand?
In ancient Israel- they would have these small dishes that would have a wick in oil. They would put the lamp, up on a lampstand so that the light could illuminate the whole room
We don't think like they did- we just turn on the light-
But here's what Jesus is saying- Why would you have a light in your house that you wouldn't use to the best of its ability? It wouldn't make any sense- put that thing up high
Jesus is saying to the disciples just that- I am equipping you for an assignment- and that assignment is to bring my message to this world.
In essence, why would I pour into you guys for 3 years for you to do nothing with it?
You are on ASSIGNMENT and you better be living out your assignment! God says-
I didn't pour into you so you could hold onto it- it was for a PURPOSE
1 cor 12:15-22 READ 15 If the foot should say, "Because I am not a hand, I am not of the body," is it therefore not of the body?
What does it mean to you?
You're on assignment! God has created you for a PURPOSE and ASSIGNMENT
Ephesians 2:10 For we are His workmanship, created in Christ Jesus for good works, which God prepared beforehand that we should walk in them.
Army humvee training. That's what they were built for
We are all part of the body of Christ, but the body is not made up of a bunch of BUTS
But I can't, But I'm not equipped, But I wasn't called, But I'm busy, But I'm scared, But I tried that, But it will cost me time, But I did that for so many years,
You were created for GOOD WORKS not to SIT AROUND- Eph 2:8-9 Grace saved, next WORK
Philippians 2:13 for it is God who works in you both to will and to do for His good pleasure.
Its for God's good pleasure that you were created- so that we could be the hands and feet of Jesus- so we could do the work of the ministry
Eph 4: 11 And He Himself gave some to be apostles, some prophets, some evangelists, and some pastors and teachers, 12 for the equipping of the saints for the work of ministry, for the edifying of the body of Christ,
When I'm up here preaching- its not just to make you feel good about yourself- its so you can be EQUIPPED for the WORK of the MINISTRY-
I get it- everyone can't preach- but that's not the point- preacher equips the SAINTS
Hebrews 13:21 make you complete in every good work to do His will, working in you what is well pleasing in His sight, through Jesus Christ, to whom be glory forever and ever. Amen.
Its about HIM and not YOU- Its about what HE wants you to do- and HOW not YOU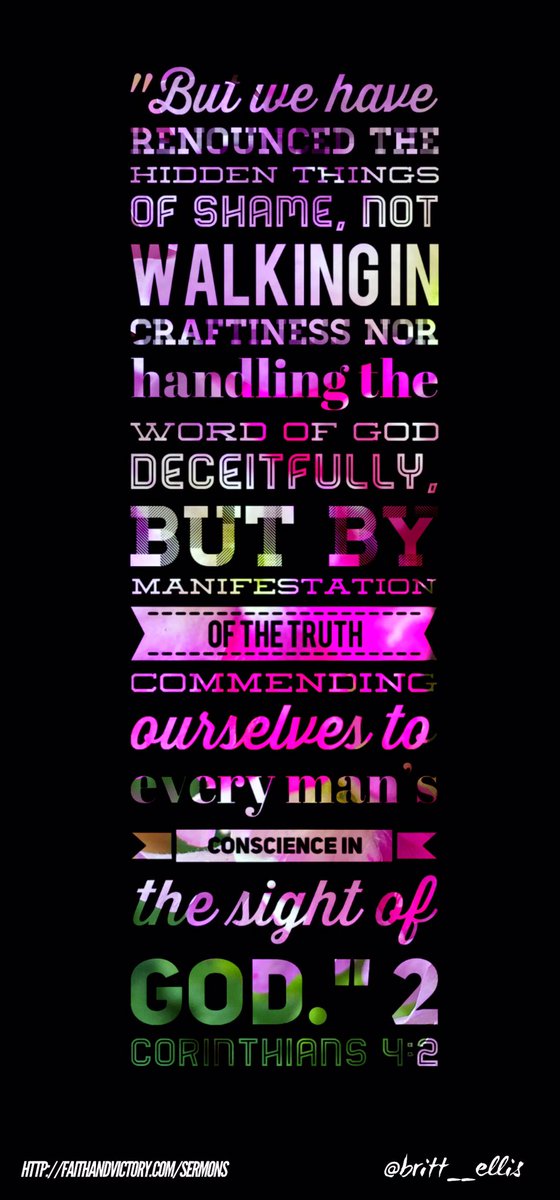 Spread truth
22 For there is nothing hidden which will not be revealed, nor has anything been kept secret but that it should come to light.
So Jesus moves on to talk to the disciples and explains to them about their secret- Remember last week we talked about Mark 4:11 and the secret that has been given to the disciples to share
This "Secret" isn't going to be kept in the dark. It's a secret that was meant to be shared and there is NO stopping it.
Jesus didn't share these truths just to enlighten these guys- it was for the truth to get OUT
The point of the TRUTH was to illuminate the DARKNESS
John 1:5 And the light shines in the darkness, and the darkness did not comprehend it.
Light was created to take over the darkness and this Light- this TRUTH was intended for a purpose and its going to accomplish its purpose- It was hidden in parables- but LIGHT
What does it mean to you
If you want more truth- spread more truth! But it needs to come from LOVE– 1 John 4:8 He who does not love does not know God, for God is love.
If you aren't loving, the bible says you're no good for anyone –needs to come from LOVE
Ephesians 4:15 but, speaking the truth in love, may grow up in all things into Him who is the head—Christ—
Jesus said that the truth makes people FREE and many people who are in BONDAGE are in BONDAGE because they don't know the truth
God made the lamps of the world to illuminate the darkness with TRUTH- and these truths are of the utmost importance for us to spread- to tell people about
But it must be done with LOVE- and people know when you love them-
This week- Guy at our Gym died- somber mood over the gym- Crystal shared with gal about Jesus
1 John 3:18 My little children, let us not love in word or in tongue, but in deed and in truth.
What good is love if its not backed up by action and truth? Some people don't like truth- and will try to bend it and change it at every turn.
We are called to be truth speakers IN LOVE- if we have not love, we have no reason to share
Zechariah 8:16 These are the things you shall do: Speak each man the truth to his neighbor; Give judgment in your gates for truth, justice, and peace;
If we as Christian people are not speaking the truth? Who is going to speak it? Who is going to speak up for the truth of the scriptures?
I get it- some people come at me because they think I'm not loving enough- but the truth is- I love people enough to tell them the truth!!
I do it to my own kids- why would I not do it to the church? I don't let my kids off and pretend there wasn't something in their power they could have done to change the situation-
Its painful to watch- but I tell them the truth- how else will they progress as people?
You can't pay your light bill on good intentions.
2 Corinthians 4:2 But we have renounced the hidden things of shame, not walking in craftiness nor handling the word of God deceitfully, but by manifestation of the truth commending ourselves to every man's conscience in the sight of God.
Don't handle the word of God deceitfully. Handle it with the love and care that it deserves
Churches in revelation- some Got condemnation, some got commendation- I want the latter!
Rev 3:8 "I know your works. See, I have set before you an open door, and no one can shut it;for you have a little strength, have kept My word, and have not denied My name.
Let that be US! Let us be a church that keeps God's word in TRUTH.
Listen and remember
23 If anyone has ears to hear, let him hear." 24 Then He said to them,"Take heed what you hear.
Whenever Jesus spoke- it wasn't for his own benefit- it was for the benefit of the hearer-
Many times Jesus said "if anyone has ears let him hear" or some variation of it
It's truly a Jesus phrase- he loved using it- interesting that God gave us 2 ears and one mouth
The simplest way to understand what Jesus is saying to these disciples is If you have ears and you're not listening- you need to listen and pay attention
Its not just enough to LISTEN you have to REMEMBER what he's saying and HEED it-
To HEED is to remember- to take it seriously and APPLY it-
The Bible is an Application book- its not just a quote and think book- but a LISTEN AND HEED
James 1:19 So then, my beloved brethren, let every man be swift to hear, slow to speak, slow to wrath;
God has always wanted us to be listeners! To hear what he is saying to us!
Swift to hear! One of the biggest problems with humans is that we never want to listen- we always want to talk- Waiting for our turn to speak- thinking about what we're going to say while the other person is talking instead of actually listening to them
And some people talk so much they never stop talking and actually listen
What does it mean to you?
You should listen to what God is telling you to do. With every area of your life
Listen to the sermons- Do you ever re-listen to them throughout the week? I listen to them!
Train yourself to listen to what God is saying before you speak about it
Proverbs 18:13 He who answers a matter before he hears it, It is folly and shame to him.
We must be people that listen to the words of Jesus- He wanted us to listen- even NOW
Proverbs 19:27 Cease listening to instruction, my son, And you will stray from the words of knowledge. WE NEED TO CONTINUE TO LISTEN TO JESUS EVEN MORE SO NOW
John 8:47 He who is of God hears God's words; therefore you do not hear, because you are not of God."
Listening is no good if you don't remember
We must remember what God has done for us- we must never forget- Jewish are good at this
Deuteronomy 6:12 then beware, lest you forget the Lord who brought you out of the land of Egypt, from the house of bondage.
Jews celebrate Passover every year TO REMEMBER- we remember Jesus through Communion
Luke 22:19 And He took bread, gave thanks and broke it, and gave it to them, saying, "This is My body which is given for you; do this in remembrance of Me."
Listen and remember!
Psalm 119:55 I remember Your name in the night, O Lord, And I keep Your law.
Use your gift largely
With the same measure you use, it will be measured to you; and to you who hear, more will be given.25 For whoever has, to him more will be given; but whoever does not have, even what he has will be taken away from him."
Now this here is an important part to this whole verse- Jesus says- if I've given made you lamp, and given you this truth- its use it or lose it.
That's the truth- the ones who has this- will be give MORE but he who doesn't it will be taken away
So important when it comes to understanding the using of your gifts for the Glory of God
Those who aren't a useful lampstand will no longer be a lampstand
Every single Christian has been given a measure of a gift and is required to use it for God
Romans 12:4-8 READ
Either you're a member of the body of Christ or you're not- if you are you are REQUIRED to work
1 Peter 4:10 As each one has received a gift, minister it to one another, as good stewards of the manifold grace of God.
If you attend this church and you're not involved in a ministry- you're wrong- fix it
1 Corinthians 12:7 But the manifestation of the Spirit is given to each one for the profit of all
Your gifting was meant to bless God and others- not yourself and if you don't use it, its going to be taken away from you
Titus 3:14 And let our people also learn to maintain good works, to meet urgent needs, that they may not be unfruitful.
Can I share with you how you can use your gifts? Meet urgent needs? SHOW APP
Everyone in this room should send a message today- either to sign up- or just be used-
Romans 12: 6 Having then gifts differing according to the grace that is given to us, let us use them: if prophecy, let us prophesy in proportion to our faith; 7 or ministry, let us use it in our ministering; he who teaches, in teaching; 8 he who exhorts, in exhortation; he who gives, with liberality; he who leads, with diligence; he who shows mercy, with cheerfulness.
1 Peter 4:10 As each one has received a gift, minister it to one another, as good stewards of the manifold grace of God.
Use it or lose it.