Today we celebrate baptism. The most tangible thing we can do in this world to express our conversion to Christianity- Christians have been doing it for almost 2000 years.
• Today we have people who are going to join in with them and declare that Jesus is Lord over their life
• Important to note- we don't believe that Baptism saves you- but it is a requirement of a Christian- I know that's hard to fathom, but we serve a God who is 100%man/god
• Matt 28:16 And Jesus came and spoke to them, saying, "All authority has been given to Me in heaven and on earth. 19 Go therefore[c] and make disciples of all the nations, baptizing them in the name of the Father and of the Son and of the Holy Spirit, 20 teaching them to observe all things that I have commanded you; and lo, I am with you always, evento the end of the age." Amen
• Title- Most Powerful Water in The World
• Why do we baptize?
• First- we do it because we are commanded to do it by Jesus Christ- It was the last orders that Jesus gave to his disciples before his ascension into heaven. Matt 28:16
• Second- Jesus was baptized- Matthew 3:13 Then Jesus came from Galilee to John at the Jordan to be baptized by him.
• Third- It is what we see in the Biblical record- Believers at Pentecost- Acts 2:41, Converts in Samaria Acts 8:12, Ethiopian Eunuch Acts 8:38, Saul of Tsarsus Acts 9:18, Lydia Acts 16:15, Philipian Jailer acts 16:33, Believers in Corinth acts 18:8, Ephesian disciples acts 19:5
• How do we baptize?
• First- "baptize" is translated from the original Greek word "baptizo", which means to immerse.
• "Baptizo" does not mean sprinkle or pour. If the Greek word "rhantizo" means sprinkled, Greek word "katacheo" means poured. But he didn't, so "baptizo" was used, which can only mean to immerse.
• You can't be buried with Christ in baptism without being submerged
• Second- We only see immersion in the Bible Mark 1:10 And immediately, coming up from the water, He saw the heavens parting and the Spirit descending upon Him like a dove.
• Jesus and his disciples were always in a river or a body of water when they baptized and submerged people
• Three- The historicity of the baptism comes from the Jewish Mikveh which was a ceremonial washing bath that was done through full immersion as well. The baptism is a NT application of that ceremonial washing and cleansing that Christ came to fulfill- He didn't come to abolish the law but to fulfill it
• Four- We baptize in the name of the Father, the Son and the Holy Spirit in Jesus name
What does baptism do?
1. Puts the old self to death
• A person cannot get in the water if they do not believe that Jesus Christ was the son of God, died for their sins, and have placed their faith in Him to forgive them of their sins
• When a person gets in the water they are making a declaration to the world that the person they once were is now dead- gone in the waters of Baptism
• Romans 6:3 Or do you not know that as many of us as were baptized into Christ Jesus were baptized into His death? 4 Therefore we were buried with Him through baptism into death, that just as Christ was raised from the dead by the glory of the Father, even so we also should walk in newness of life.
• When someone gets into the waters of baptism they are dying to themselves- they no longer want to identify with their old selves but want to walk in the newness that Christ provides
• Col 3:3 For you died, and your life is hidden with Christ in God.
• Colossians 2:12 buried with Him in baptism, in which you also were raised with Him through faith in the working of God, who raised Him from the dead.
• This idea of dying to self in the waters of baptism is eternally significant
• You cannot be a Christian and live for yourself. Its not just dying to old self- its dying to SELF
• This idea of "I'm a Christian because I say I'm a Christian" doesn't "hold water" so to speak
• A Christian is a person who has had their old self buried in the waters of baptism, from which we will never see again- Forgiveness from all the past- but a cosmic shift in priorities
• 2 cor 5:15 and He died for all, that those who live should live no longer for themselves, but for Him who died for them and rose again.
• NO LONGER LIVE FOR THEMSELVES
• Going into the waters of baptism is symbolic of you DYING, just as Christ died and coming up from the waters a NEW CREATION
• 2 cor 5:17 Therefore, if anyone is in Christ, he is a new creation; old things have passed away; behold, all things have become new.
• Paul goes on to say in v 19 of 2 cor 5, not imputing their trespasses to them,
• When you die to self in the waters of baptism, you are no longer held to that which you were before, because God doesn't hold you spiritually accountable to it- FORGIVENESS
What does that mean to you?
• Quit living like your old self-
• READ Col 3:8-11 8 But now you yourselves are to put off all these: anger, wrath, malice, blasphemy, filthy language out of your mouth
• The problem with the Colossians was the same problem we have with todays Christians
• Just because you went down in the water doesn't mean that you're not going to fight against the flesh that still wants to entangle you- Your baptism long ago- keep fighting the flesh
• You must fight it- You must put to death the misdeeds of the body
• Don't give up the fight- look for opportunity to attack it at every turn- DON'T GIVE UP
• Galatians 2:20 I have been crucified with Christ; it is no longer I who live, but Christ lives in me; and the life which I now live in the flesh I live by faith in the Son of God, who loved me and gave Himself for me.
• Matthew 10:38 And he who does not take his cross and follow after Me is not worthy of Me.
• 1 Corinthians 15:31 I affirm, by the boasting in you which I have in Christ Jesus our Lord, I die daily.
• This is the constant battle my friend- to DIE TO SELF DAILY
• Less about your needs, but others needs. Less about your own pride, more about others
2. Identifies you as a believer in Jesus Christ
• Upon a persons confession of Jesus Christ as Lord Romans 10:9 that if you confess with your mouth the Lord Jesus and believe in your heart that God has raised Him from the dead, you will be saved. You are saved from judgment and set free from the law of sin and death upon your confession
• But what baptism is- is a external display of what has happened internally and displays it externally to the world- I want to be seen as Christian person who lives for Him
• Sure- you can sneak down to church and get in the water- but back then- it was a public spectacle- people would go to the body of water and everyone would see what they have done
• Modern example- we'll be taking pictures and posting it on Facebook PUBLIC
• Galatians 3:27 For as many of you as were baptized into Christ have put on Christ.
• You can't call yourself a Christian and deny the waters of baptism
• It is a commandment of Jesus Christ to be baptized- the early disciples admonished the new believers to be baptized and we in turn follow their example
• Acts 2:38 Then Peter said to them, "Repent, and let every one of you be baptized in the name of Jesus Christ for the remission of sins; and you shall receive the gift of the Holy Spirit.
• Its not that you are going down into water, its that you are doing it IN THE NAME OF JESUS
• You don't get baptized everytime you take a bath- if its not in the name of the Lord Jesus- it is of none effect
• Notice- Jesus didn't baptize anyone- John 4:1-2 Therefore, when the Lord knew that the Pharisees had heard that Jesus made and baptized more disciples than John 2 (though Jesus Himself did not baptize, but His disciples),
• He gave that charge to US- to baptize each other into Christ- identify with him together
• And that Identity in HIM is what defines who we ARE and we must walk in it
What does it mean to you
• If you get baptized- act like it. You've died to yourself and put on Christ- live like a Christian should live
• Appropriate your faith Daily- walk in the grace that Christ provides
• Love like Jesus loved- go and love on people
• Don't align yourself with things that aren't of God- be willing to distance yourself from the world
• Pray- read your Bible- worship- serve- give-
• But we don't believe that Baptism saves you-
• 1 Peter 3:21 There is also an antitype which now saves us—baptism (not the removal of the filth of the flesh, but the answer of a good conscience toward God), through the resurrection of Jesus Christ,
• But you should be baptized if you're a believer in Christ to identify with himView image on Twitter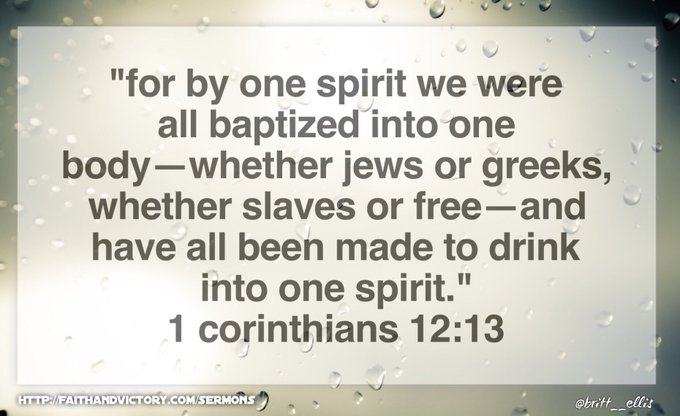 3. Puts you in the church
• Water baptism is the single act that one does to identify as a member of the church
• I realize that this is counter cultural to todays "I can do whatever I want" society
• But Baptism is a mark of Church membership- I've struggled with baptizing people who get baptized and we never see them again- This isn't a 'superstition' or Guarantee
• I've seen people who have been baptized that stopped serving Jesus Christ
• There is no definitive proof that Jesus baptized anyone- he put it in the hands of the disciples to do so
• It is one of the two ordinances of the Church- Communion and Baptism. Sure, you can take communion and be baptized outside a church- but this is very modern day-
• In antinquity, there was no individualized Christianity- it was always becoming part of a CHURCH- and when you are baptized- you publicly declare that you are a Christian, and therefore in the body of Christ
• 1 Corinthians 12:13 For by one Spirit we were all baptized into one body- whether slaves or free- and have all been made to drink into one spirit
• This is so important- we must understand that we are the Body of Christ and that Jesus is coming back for his CHURCH. We must be part of a church and we must prepare his bride for him
• Ephesians 4:4 There is one body and one Spirit, just as you were called in one hope of your calling; 5 one Lord, one faith, one baptism; 6 one God and Father of all, who is above all, and through all, and in you all.
• I think its important to note that in Revelation, Jesus comes back for many churches, but I don't see him coming back for individuals that aren't connected to a church
• I realize that's odd to think about it that way- and you can argue with me- but I don't agree with individual Christianity- you can't be a lone ranger Christian and live out the NT scriptures
• 1 corinthians 12: 26 And if one member suffers, all the members suffer with it; or if one member is honored, all the members rejoice with it.
• How can you live that out and not be a member of a church?
• What does it mean to you?
• If you're a Christian and you haven't been baptized you're walking in disobedience- get baptized and be part of the church of Christ
• If you're not a member of this church- why? I'm committed to you as a member- should we not commit to each other?
• Church visitation is the only relationship that I know of that is one sided- come and go as you please- but expect that pastor and church to be there for you all the time- even though you're not committed- (make sure to post it on facebook after how they didn't help you)
• Wanting all the benefits with none of the commitmentView image on Twitter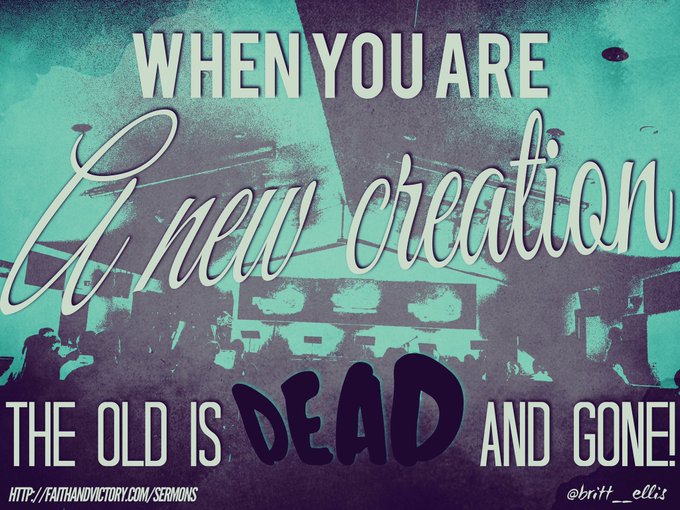 Closing
• Acts 2:40 And with many other words he testified and exhorted them, saying, "Be saved from this perverse generation." 41 Then those who gladly received his word were baptized; and that day about three thousand souls were added to them
• Today is the day of salvation- if you're not water baptized- do it today
• Don't think about who is here or who isn't think about YOUR decision for Christ