Where are you running?
A quick internet search and you can find a video of people chasing after famous people. Elvis, MJ, Beiber, etc. People have a penchant for the famous. They want what the famous have
Want to touch them, want be like them, want to be around them- maybe their life be changed?
Where are you running? Are you running to work? School? People? Drugs? Food? Pornography? The internet? Other gods? Personal status?
Great story today about some people that wanted to follow Jesus wherever he went
READ Mark 6:45-52
Here's the verse that jumped out at me Ran
33 But the multitudes[d]saw them departing, and many knew Him and ran there on foot from all the cities. They arrived before them and came together to Him.
are you running to Jesus? Are so concerned with following him that you even forget to eat?
Cause here's these guys- seeing Jesus going and they ran there on foot from all the cities!
Can you see that? Jesus leaves on a boat and the dudes run around to the side where Jesus was going on the boat- lake Washington is 22m long w 2-6 miles. 34sqm Sea of Galilee 13 l by 8 w 64 sq m
Hebrews 12:1 Therefore we also, since we are surrounded by so great a cloud of witnesses, let us lay aside every weight, and the sin which so easily ensnares us, and let us run with endurance the race that is set before us,
Here's why you should run to Jesus
Run and be shepherded
34 And Jesus, when He came out, saw a great multitude and was moved with compassion for them, because they were like sheep not having a shepherd. So He began to teach them many things.
We have been created as people who need to be led- left to ourselves, we don't end up well
1 Peter 2:25 For you were like sheep going astray, but have now returned to the Shepherd and Overseer of your souls.
Jesus is the good shepherd
John 10:11 "I am the good shepherd. The good shepherd gives His life for the sheep.
When these guys were running to Jesus- it was because they lacked direction in their lives- the so desperately wanted to be led- to find life
Jesus saw in their actions and in their hearts
No different than today- People want to be led- they'll find a God to worship and a cause to follow- Something to believe in
1 Sam 8:5b "Now make us a king to judge us like all the nations." It in our HEART
The God of the outdoors- The God of Money- The God of Family – The God of Work- The God of fitness- the God of home improvement- The God of Hobbies- The God of self help
And there are false shepherds within the church as well- that lead people everywhere except to Jesus- Leading them to themselves, or acts of service, or self fulfillment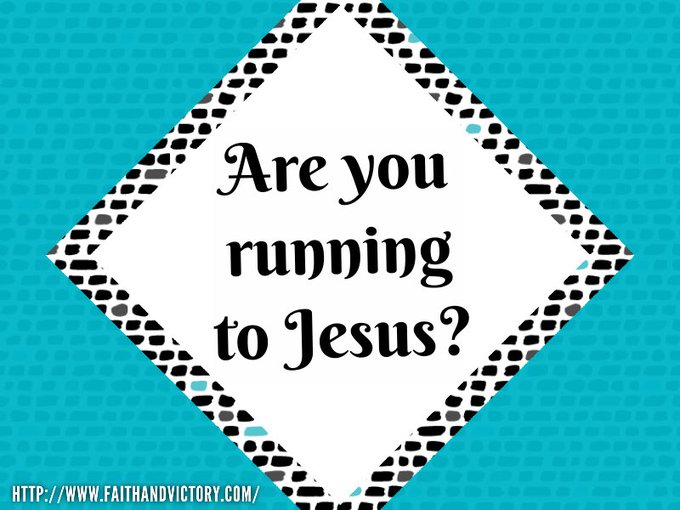 What does it mean to you?
Run after the shepherd! But make sure it's the right one!
John 10:14 I am the good shepherd; and I know My sheep, and am known by My own.
If you know your Bible you'll know when you come in contact with a false Christ
The presence of Jesus is real and tangible and will change your life
But here's the deal- YOU HAVE TO LET HIM SHEPHERD YOU
JR High- Running the Mile- only 3 laps. make it seem like I'm submitted but not really
Letting Jesus shepherd you is taking control of your WHOLE LIFE and WHOLE MIND
You cant try to lead Jesus where you want him to Go- People are master maniuplators
You must allow him to lead you and take you- It's the ultimate end of faith
Revelation 7:17for the Lamb who is in the midst of the throne will shepherd them and lead them to living fountains of waters.[a] And God will wipe away every tear from their eyes."
If you don't want Jesus to lead you now, why would you want him to lead you in the end? God is looking for full submission NOW to his ways-
Jesus is the good shepherd
Run and be empowered
"You give them something to eat"
Jesus is the bread of life- he brings nourishment for us to share with others
READ 36-38
In this part of the story- we see a wonderful picture of the ministry of Jesus and the empowerment of the disciples
There's a huge need- 5000 people need to eat- so the disciples come up with a plan- "obviously we need to buy some bread- (14K worth btw) and they look at Jesus like, right?
Jesus comes back at them 37 "You give them something to eat."
Its in that moment that the disciples must have been bewildered- JESUS- 5000! What can we do
Often the greatest opportunities to see Jesus move are in our times of most dire need
What does Jesus do? 38"How many loaves do you have? Go and see.
Jesus doesn't expect out of them what they don't have- but what they DO have-
How many loaves do you have? Lets see what you got and what we can do with it?
And- are you willing to give it? Are you willing to bring forward what you have? Will you trust me? And they DO
Now- let me be clear- this is a MIRACLE- the Miracle ISNT that people gave up their food
Jesus is a God of order- he had them sit in 50s and 100s
39 Then He commanded them to make them all sit down in groups on the green grass.40 So they sat down in ranks, in hundreds and in fifties.
Notice- The prelude to the miracle was obedience to Jesus and his commands- Sit down 50-100
We serve a God of ORDER- There is no hodge podge throw it together aspect of our God- He knows what he's doing and how he's doing it
What Does it mean to you?
Don't think about what you DON'T have think about what you DO have
Often times we don't give what we have to God because we feel as though it isn't enough
But God doesn't ask you to give what you don't have he asks you to give what you DO have
We serve a God that uses the little things of people to accomplish BIG things for HIM
2 Cor 82 that in a great trial of affliction the abundance of their joy and their deep poverty abounded in the riches of their liberality. 3 For I bear witness that according totheirability, yes, and beyond their ability, they were freely willing,
Don't let what you DON'T have keep you from giving what you DO have
Do you have time? Do you have Gifts? Do you have money? Do you have Ideas?
Are you willing to give up what little you have to do what God is calling you to do?
GIVE THEM believe that God can do miraculous things with them! WATCH HIM WORK
Will you give up your few loaves of bread in hopes that they will be multiplied?
Here's the deal- If these guys were hungry themselves, why would they give up what they needed to help others? It breaks common wisdom.
Hebrews 11:6 But without faith it is impossible to please Him, for he who comes to God must believe that He is, and that He is a rewarder of those who diligently seek Him.
You must have faith to believe that God is going to great things with what you give him. He is a God of the miraculous. He is the God of MORE THAN ENOUGH. He is the God of I WILL MAKE A WAY
Acts 3:6 Then Peter said, "Silver and gold I do not have, but what I do have I give you: In the name of Jesus Christ of Nazareth, rise up and walk."
What happens?
42 So they all ate and were filled.
Run and be filled
These guys ran all the way around the lake and they received more than they expected. They were FILLED
42 So they all ate and were filled.43 And they took up twelve baskets full of fragments and of the fish. 44 Now those who had eaten the loaves were about[f] five thousand men.
The initial run of the people following Jesus was because they wanted what he had- so they ran after him-
All the way to the other side of the lake- to take in what Jesus was offering-
They went with a spiritual need and came back with a physical need fulfilled.
Not only were they FILLED but there was ABUNDANCE left over
When God meets a need he does it overwhelmingly well. He doesn't do it half way
Psalm 147:5 Great is our Lord, and mighty in power; His understanding is infinite.
God will always do mighty and powerful things
What does it mean to you?
Run to God and be filled! Run to where he is and be filled with miraculous and wonderful things
You will always be filled
Being at the end of the month and waiting for your paycheck- wanting to just have it in the bank- That's the spiritual principle. The bank is always full- never NSF or Overdrawn
Eph 3:14-21 READ 16 that He would grant you, according to the riches of His glory, to be strengthened with might through His Spirit in the inner man,
We do not serve a God that leaves you wanting or leaves you unfulfilled.
He will fill those who seek after him and follow him. Those that RUN to him
What's holding you back? What is keeping you from experiencing God's best?
Run from THAT and run to HIM