Will You Obey?
43And He strictly warned him and sent him away at once, 44 and said to him, "See that you say nothing to anyone; but go your way, show yourself to the priest, and offer for your cleansing those things which Moses commanded, as a testimony to them."
45 However, he went out and began to proclaim it freely, and to spread the matter, so that Jesus could no longer openly enter the city, but was outside in deserted places; and they came to Him from every direction.
Upon the completion of this mans healing- Jesus "strictly warned him" and
This is an important part of this story- that Jesus strictly warned him
This word here is "strictly warned him" em-brim-ah'-om-ahee From G1722 and βριμάομαι brimaomai (to snort with anger); to have indignation on, that is, (transitively) to blame, (intransitively) to sigh with chagrin, (specifically) to sternly enjoin: – straitly charge, groan, murmur against.
Now what Jesus strictly warned him of is often a point of discussion, the next part of the sentence is that then tells him what to do now that he has been healed
Its interesting though- Warned him AND sent him AND said to him 3 separate commands
He wasn't warning him as he was sending him nor was he giving him direction as he sent him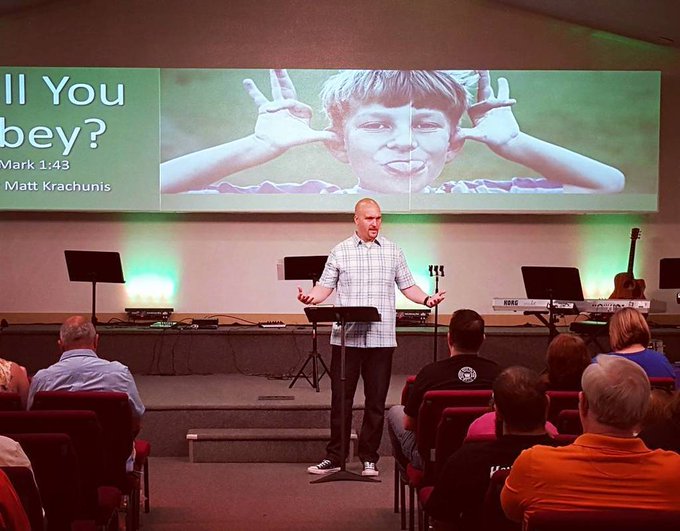 He was rebuking him. Most of the time when Jesus speaks, the authors of the Gospel will say "Jesus said" or something of that nature
I wonder the content of what he said when he "Strictly warned him"
There's an indication of what he might have said that we find in John 5
The man who was healed at the pool of Bethesda is healed and afterwards Jesus has some choice words for him
John 5:12 Then they asked him, "Who is the Man who said to you, 'Take up your bed and walk'?" 13 But the one who was healed did not know who it was, for Jesus had withdrawn, a multitude being in that place.14 Afterward Jesus found him in the temple, and said to him, "See, you have been made well. Sin no more, lest a worse thing come upon you."
Leprosy was an indication of sin at the time- Jesus warned him against returning to it when speaking to the man at Bethesda, would it not be reasonable to suggest that this "Stern warning" was equally a warning against returning to a life of sin?
Henry– : Sin no more, lest a worse thing come unto thee; for the leprosy was ordinarily the punishment of some particular sinners, as in Miriam's, Gehazi's, and Uzziah's, case; now, when Christ healed him, he warned him, he threatened him with the fatal consequence of it if he should return to sin again."
Jesus was warning this guy against falling again into sin and suffering the consequence of it
What does it mean to you?
How much mercy has God shown you in your life? How many times has he forgiven you?
Christ today would implore you as well to leave your life of Sin and protect yourself from it
There are many a warning against sin in the Bible
Isaiah 59:1 Listen! The Lord's arm is not too weak to save you, nor is his ear too deaf to hear you call. 2 It's your sins that have cut you off from God. Because of your sins, he has turned away and will not listen anymore.
Sure- this is written to Israel, but the reality is that Sin separates you from God, so the seriousness in which you must take a stern rebuke is important
Actually, the Bible is very stern when it comes to the rebuke of sin
1 Timothy 5:20 Those who are sinning rebuke in the presence of all, that the rest also may fear.
There is GRACE-
Galatians 6:1 Brethren, if a man is overtaken in any trespass, you who are spiritual restore such a one in a spirit of gentleness, considering yourself lest you also be tempted.
HELPING PEOPLE To STAY AWAY FROM SIN IS GOOD- You should say THANK YOU
Revelation 3:19 As many as I love, I rebuke and chasten. Therefore be zealous and repent.
Sure God spoke this to Ezekiel, but it it was a stern warning that God required of him to tell other people of their sin
Ezekiel 3:18 When I say to the wicked, 'You shall surely die,' and you give him no warning, nor speak to warn the wicked from his wicked way, to save his life, that same wicked man shall die in his iniquity; but his blood I will require at your hand.
One of the hardest things about being a Christian is that there is still a constant pull back to death and sin- Magnify the consequences, don' t minimize them (Telling my son about driving death)
But the GOOD NEWS is that Christ has DELIVERED us from the kingdom of darkeness
Colossians 1:13 He has delivered us from the power of darkness and conveyed us into the kingdom of the Son of His love,
Folks- THE PAYMENT YOU GET FOR SIN IS DEATH it should be taken seriously
Romans 6:23 For the wages of sin is death, but the gift of God is eternal life in Christ Jesus our Lord.
Army- Make sure your buttons are buttoned. It could cost someone their life!
Obey what he tells you to say
44 and said to him, "See that you say nothing to anyone; but go your way
Its very curious that Jesus tells this newly healed leper to not tell anyone what he did.
We're supposed to tell everyone about Jesus, right? But many places in the Gospels Jesus tells people to not tell anyone about what is going on
Two reasons he didn't want people to tell everyone about what Jesus was doing
At this point in Jesus ministry, its clear that the most important aspect of Jesus ministry is the ministry of the WORD not the ministry of the MIRACLES
The purpose of the miracles was so Jesus could preach, not just so he could perform a healing line
Jesus came Luke 19:10 for the Son of Man has come to seek and to save that which was lost."
The focus of Jesus ministry was spiritual deliverance from the Kingdom of Darkness and to reestablish men's relationship with God through the forgiveness of Sin.
2 Corinthians 5:21 For He made Him who knew no sin to be sin for us, that we might become the righteousness of God in Him.
Two- Hindrance to ministry
because 45 However, he went out and began to proclaim it freely, and to spread the matter, so that Jesus could no longer openly enter the city, but was outside in deserted places; and they came to Him from every direction.
This lepers disobedience to what Jesus had asked him to do now became a hindrance to Jesus ministry instead of a blessing
Because people would be coming, not to hear what Jesus had to say, but because of what he could DO for them and that would bring LARGE CROWDS that would keep him busy
Jesus wanted to maximize the opportunity he had to get the word out- and didn't want crowds to hinder him from speaking the word
What does it mean to you?
Keep the right focus about Jesus
Its very easy as Christians to make the benefits of following Christ more important to actually following Christ
Its easy to push better marriages, better kids, better life, friendships, increased finances, togetherness, community, job connections, professional connections, Great music, inspiring messages? BUT THAT'S NOT THE POINT OF THE WHOLE THING
Jesus Christ came to save sinners. We were in danger of Hell and he saved us
We worship him because he saved us. We love people because he saved us. We serve because he saved us. We give because he saved us. We lead our kids differently because he saved us
Its is very very easy for a local church to quickly become a club that loses its focus of what we're doing and why we're doing it. There are many clubs and civic organizations that provide the same ancillary benefits of being part of the organization- WE MUST KEEP THE FOCUS ABOUT JESUS AND THE FORGIVENESS OF SIN and NEW LIFE in HIM
Civic mindset in the church, about lack of recognition, lack of influence, lack of prestige
Colossians 3:23 And whatever you do, do it heartily, as to the Lord and not to men,
I was at another church a few years back and I met a guy there who was an atheist. Came to church every week. Came to every church event. But didn't believe. Why did he come? "All these people are really nice, I like hanging out with them" been there like 3 years
That's great and nice and all, but THAT'S NOT THE POINT
1 Corinthians 2:2 For I determined not to know anything among you except Jesus Christ and Him crucified.
Obey what he tells you to say
Jesus has actually told us what we should be talking about
Colossians 3:16 Let the word of Christ dwell in you richly in all wisdom, teaching and admonishing one another in psalms and hymns and spiritual songs, singing with grace in your hearts to the Lord.
I've said it many times- There things that we should be saying, but also things we SHOULDN'T be sayin
What we shouldn't be saying
Ephesians 4:29 Let no corrupt word proceed out of your mouth, but what is good for necessary edification, that it may impart grace to the hearers.
Colossians 3:8 But now you yourselves are to put off all these: anger, wrath, malice, blasphemy, filthy language out of your mouth.
James 3:10 Out of the same mouth proceed blessing and cursing. My brethren, these things ought not to be so.
Proverbs 21:23 Whoever guards his mouth and tongue Keeps his soul from troubles.
Obey what he tells you to do
; but go your way, show yourself to the priest, and offer for your cleansing those things which Moses commanded, as a testimony to them."
Interesting part of the story- Here's a guy that just got healed by Jesus- and Jesus tells him to go to the Priest, and offer what Moses commanded
1.The Priest had no ability to cleanse the leper
2.The priest was the only one who could determine if someone was clean or unclean. Once they did this, then they informed the people that the person was clean
3.If he was declared clean, there was an offering that Moses required
when the now cleansed leper went to the priest, the priest would indirectly confirm the power of Christ to cleanse a leper.
The priest would not have believed for Jesus to have this power
BUT- the priest knew how to diagnose leprosy, If he declared the man clean, r he was clean.
When he declared him clean, he was giving expert witness to the authenticity of the miracle.
Therefore the Law (Moses through this priest) was testifying to Jesus.
Watch this- What was the offering that Moses required?
READ Leviticus 14:3-7
This offering clearly points to Jesus Christ and his life
A very clear image to the Leper how Christ cleanses him and to US how we are cleansed
Two birds- One dies (guilt bearing sacrifice) One lives (A living sacrifice)
The bird that dies produces blood, which is mixed with water, and the living bird is then dipped in the blood/water combo, representing a cleansing and then the bird is SET FREE
Coming in contact with the blood doesn't make the clean bird unclean but CLEAN and then the leper himself is then sprinkled with the blood/water mixture too. THEN HE IS FREE TO GO LIKE THE BIRD
Just like today- Christ dies, we are baptized in his death and WE GO FREE TO LIVE UNTO HIM
What does it mean to you?
DO WHAT JESUS TELLS YOU TO DO
If Jesus tells you to do something that lines up with the word of God, DO IT don't question it.
Even in this instance, this man is following what Jesus tells him to do, and it lines up with the WORD
So many people want to fight God on his word. Follow what it says and you'll be BLESSED
Here's what happens when you follow God
People see you blessed- they realize there is a God
You experience God's best and give him glory
People come to know Jesus
Skeptics silenced