Mark 1:35-39
"for this purpose I have come forth"
What is going on – Jesus shows that he gets up in the morning to go and pray in a solitary place, the disciples come looking for him, because everyone was looking for him. Jesus said, Let us go into the next towns, so I can preach, so he went and preached and demons were cast out.
What Was Jesus Purpose
Jesus purpose- according to this scripture- was that he came to preach
Did you catch that? Jesus came to preach (Yes he came to save, but FIRST to PREACH)
Jesus did many honorable and lovely things during his earthly ministry- healed the sick- raised the dead- drew HUGE crowds- the reason he did that? WAS TO PREACH
What Jesus knew was that it was through WORDS that people's lives would be changed- not through ACTIONS.
Jesus did a ton of great things for people- but it still wasn't enough for them to believe.
John 6:26 26 Jesus answered them and said, "Most assuredly, I say to you, you seek Me, not because you saw the signs, but because you ate of the loaves and were filled
People were following Jesus for what he could DO for them, not for who he WAS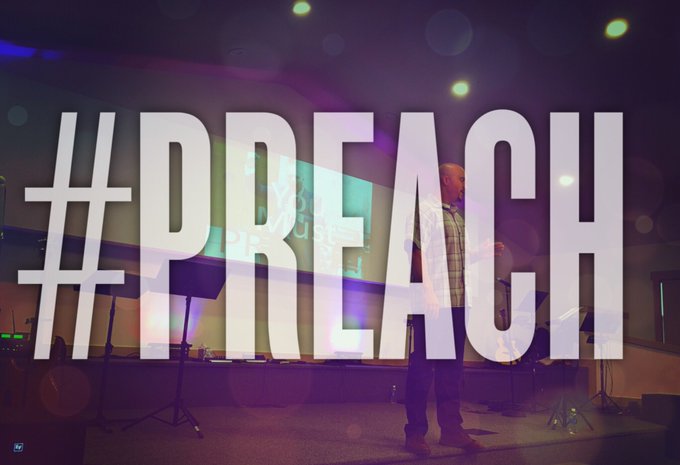 And its still the same TODAY
People want to sell Jesus and use Jesus to fulfill their own selfish desires to meet their needs
Jesus came to seek and save those who were lost- to set the captives free- To proclaim the year of the Lord's favor and to PREACH the Kingdom of God
Sure, the kingdom of God is all encompassing and touches every part of our lives, but he PREACHED the kingdom- he didn't SOUP KITCHEN the Kingdom
This is one of my peeves- People who do acts of service and call it "Preaching the Gospel"
I've corrected it many times- the quote "Preach the Gospel at all times, use words if necessary"
That's great- but I've yet to meet anyone who got saved by an act of service that wasn't connected to a Gospel presentation
The world is fine with our service and our money but not our message
We get phone calls every week from people who want us to pay their delinquent bills.
Who sends them our way? Government agencies that wont give them money- the same Government agencies that are doing everything in their power to silence the church and beat us into submission with their progressive social agenda.
If social work caused a revival we should be OVERWHELMED- but we're NOT- Its not working!
They don't say- "go down and hear some preaching to change your circumstance' they say "Go down and ask for a check" and NO ONE comes in person. They simply ask on the phone
Are we not being generous? By no means- But our job is the GOSPEL not SOCIAL WORK
Most people don't realize that most of verses in the NT about serving, loving and taking caring other is about THE PEOPLE IN THE CHURCH- not OUTSIDE The church- its truth- read up on it
Which isn't to say we don't help- I just want you to have the right perspective- why do you want what my Jesus has, without wanted what my Jesus offers?
John 6:35And Jesus said to them, "I am the bread of life. He who comes to Me shall never hunger, and he who believes in Me shall never thirst. JESUS CAME TO SAVE SINNERS
Jesus is the Word of God- The Word incarnate. The Alpha Omega- Front to back first to last
Preaching is the most important thing that Christian and a Church can do
Robert Godfrey- (1992) Only in the last forty years or so has the centrality of preaching seemed diminished. Perhaps the weakened state of the church today can be attributed in part to a loss of conviction about the spiritual importance of preaching. As sermons have gotten shorter and evening services have disappeared, Christianity in North America seems to have become shallower.
Churches have become content with "sermonettes" and "homilies" so as not to bore the church members.
True- some preachers are boring, and should get better- but the WORD OF GOD is POWERFUL
People get SAVED through preaching-
1 Corinthians 1:21 For since, in the wisdom of God, the world through wisdom did not know God, it pleased God through the foolishness of the message preached to save those who believe.
Paul admonished Timothy-
2 Timothy 4:2 Preach the word! Be ready in season and out of season. Convince, rebuke, exhort, with all longsuffering and teaching.
Paul said
1 Corinthians 9:16 For if I preach the gospel, I have nothing to boast of, for necessity is laid upon me; yes, woe is me if I do not preach the gospel!
Paul knew that preaching the gospel is the ONLY thing that he could boast about that was worth anything!
Preaching begins with prayer
You'll see in this discourse- 35 Now in the morning, having risen a long while before daylight, He went out and departed to a solitary place; and there He prayed.
Jesus power to preach was directly connected to his Connection with the Father- He knew that the power that was needed and was to come forth could only be imbued with PRAYER
An empty cup has nothing to pour out of
Jesus was constantly found praying alone, away from his disciples- being in communion with God
When Jesus went out to preach he went under the power of the spirit
Luke 4:1414 Then Jesus returned in the power of the Spirit to Galilee, and news of Him went out through all the surrounding region. 15 And He taught in their synagogues, being glorified by all
He was able to do that because he had spent time with the Father being empowered by him for the preaching
Matthew 14:23 And when He had sent the multitudes away, He went up on the mountain by Himself to pray. Now when evening came, He was alone there.
Luke 6:12 12 Now it came to pass in those days that He went out to the mountain to pray, and continued all night in prayer to God.
The time that Jesus spent in prayer prepared him for the preaching of the word
What does it mean to you?
Preaching isn't just the job of the preacher- every single one of you must know how to share the truth of the Gospel- and you must have a prayer life to back it UP
Luke 9: 2 He sent them to preach the kingdom of God and to heal the sick.
Mark 16:15 And He said to them, "Go into all the world and preach the gospel to every creature.
And if you're goin to do that, you need to be prayed up!
Jesus told his disciples this-
Matthew 10:20 for it is not you who speak, but the Spirit of your Father who speaks in you.
But If the father isn't in you, then how will you be able to speak?
If you never pray, how can you be empowered by the Father to preach his Gospel?
You should be praying—God, use me as you see fit to spread the Gospel
Few weeks back- going to supermall- Faith and Crystal Gone- standing there- waiting- I prayed- "God, send someone I can minister to, to make good use of this time" 2 mins later MJ walked up
You can't pour from an empty cup. Moses, Samuel, David, Daniel, all empowered by PRAYER
Galatians 1:11-12 But I make known to you, brethren, that the gospel which was preached by me is not according to man. 12 For I neither received it from man, nor was I taught it, but it came through the revelation of Jesus Christ.
Jesus said that his purpose was to preach- we as the church- must keep the preaching of the word of God central to what we do- it is the greatest value that we have
If we do not preach the word- we have no right to exist as the church- it is the means by which we lead people to Christ
Worship is great- some have called it "the handmaiden of the Gospel" we sing before the word to prepare our hearts to receive it
Understand- when anyone is up here preaching the word- it is the Holy Spirit speaking
This is why I get amped up with distractions- God is speaking- and I want to hear what he has to say- You should be preaching- but you should be INVITING people to hear it- (Share it on FB twt)
I know I say funny things about cell phones and babies crying and such- but its seriously because I don't want someone to not hear what God is saying
Romans 10:17 So then faith comes by hearing, and hearing by the word of God.
Look at what scriptures show- people get SAVED by Preaching-
Acts 11:14 who will tell you words by which you and all your household will be saved.'
John 17:20 "I do not pray for these alone, but also for those who will believe in Me through their word;
Romans 10: 14 How then shall they call on Him in whom they have not believed? And how shall they believe in Him of whom they have not heard? And how shall they hear without a preacher?
Ruth Gledhill (London Times) "Sermons, history shows, can be among the most revolutionary of human speech. From John Calvin to Billy Graham, preaching has had the power to topple princes, to set nation against nation, to inspire campaigners to change the world and impel people to begin life anew"
Preaching is the central act of Christian worship but its not much more than just changing this world- preaching prepares God's people for eternity.
People say- I'm already saved- why do I need the gospel? God is preparing you for eternity.
Everytime I hear a great message it grows me in my walk with Jesus- Jay preached a burner last Wednesday- listen to it- twice. Its great!
Preaching has been the means by which God has started revivals and lives have been changed
No hope of recovery of Biblical Christianity without a recovery of Biblical preaching
This is one of the greatest gifts that you guys give to me as a pastor- time to prepare time to study
acts 62 Then the twelve summoned the multitude of the disciples and said, "It is not desirable that we should leave the word of God and serve tables. 3 Therefore, brethren, seek out from among you seven men of good reputation, full of the Holy Spirit and wisdom, whom we may appoint over this business; 4 but we will give ourselves continually to prayer and to the ministry of the word."
Charles Spurgeon said this about preaching
Preaching tells the truth about God, about man, about Christ, and about salvation, and TRUTH
Counterfeit preachers can lead people astray into heretical doctrines. Social preachers can lead people to believe that works is the way of salvation,
Preaching follows the models of Christ, Paul, and the Prophets. We are told to imitate the faith of those who have gone before. (Heb. 13:7)
Preaching offers great authority which people recognize through the credibility of the word of God.
What does it mean to you?
You have to believe that preaching the Gospel is the power unto salvation. The means by which people can be transformed by God's holy word
Preach this- God made him (Jesus) to have no sin, to become sin for us, so that we might become the righteousness of God
Learn that- People who are here today that are not living for Jesus- that's the Gospel- you are an enemy of God and dead in your sin until receive Christ, yes he loves you, but he will not receive you or accept you unless you place your faith in JESUS
This message can cut across all cultural lines. This is why targeted evangelism is not effective. The necessity for a savior is the essence of the human heart and we must SHARE IT
This is why I don't believe in the gospel of Love- You can get love anywhere! But the truth is that you have wronged God and it must be made right- and it is LOVING that God has made provision for it Isaiah
40:8 The grass withers, the flower fades, But the word of our God stands forever."